Kleros Community Update - April 2021
The April 2021 edition of The Kleros Community Update is a veritable compendium of our past two quarters. Find out what we've been up to and where we're going.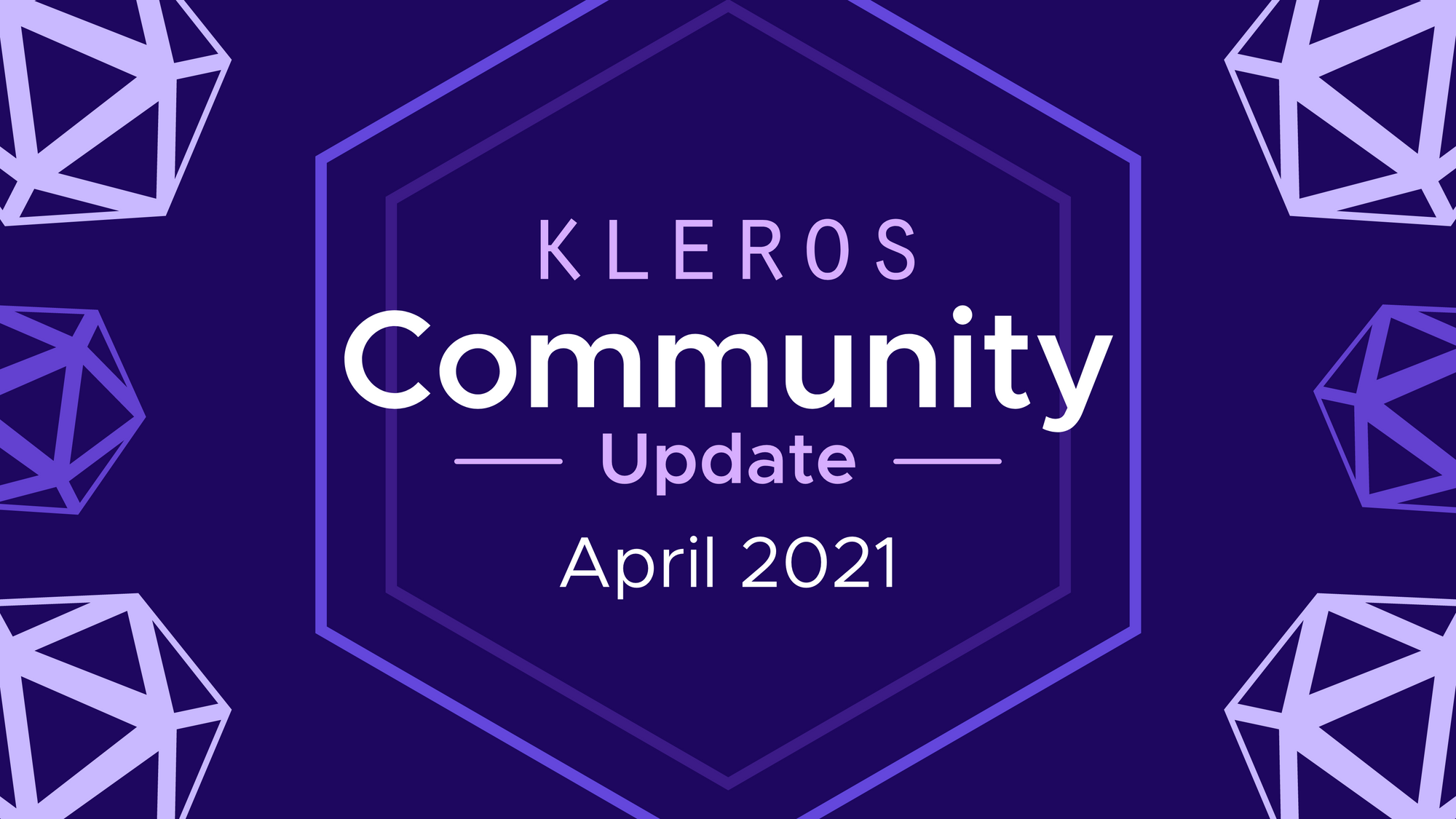 It has been a long six months since our last Community Update. At Kleros, this has been a time to work harder than ever on developing and releasing new products, garnering support for our rising movement, expanding our team and much more.
Main Events of the Past Six Months
August, 2020
Uniswap implements the option for users to choose Kleros Tokens as a vetted list of cryptoassets.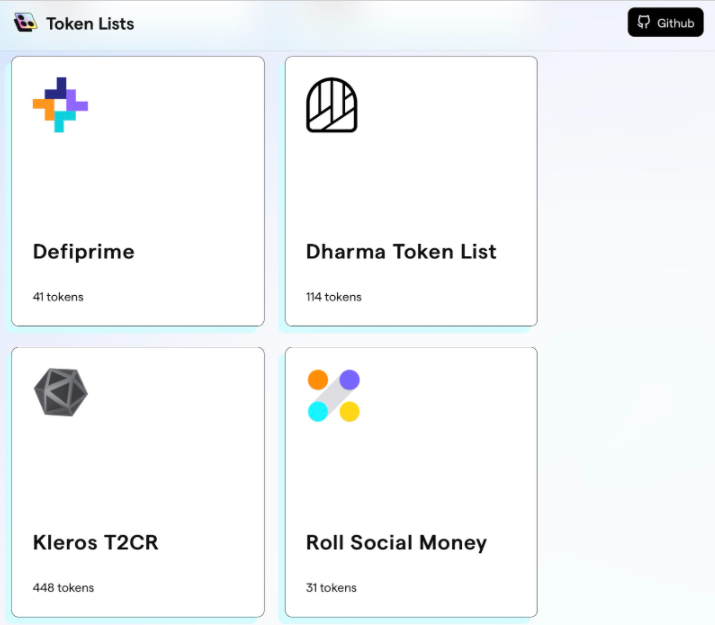 A pilot is launched with a mainstream insurance company for testing Kleros as a tool for open innovation.
The Decentralized Justice Broadcast is launched, a podcast featuring interviews with personalities from the blockchain and legaltech space.
September, 2020
For the first time, Kleros is chosen as arbitrator in the dispute resolution clause of a contract between legacy institutions: a customer in Argentina and a marketing services provider in Peru.
The Cooperative launches a new UX/UI design library.
October, 2020
Coopérative Kleros partners with the Maker Foundation for the Kleros/Maker Fellow in Decentralized Finance.
November, 2020
We hosted the online conference and hackathon: "Decentralized Justice: Law in the Age of Memes, Crowds and Blockchain" featuring 21 speakers from the fields of  blockchain, game theory and law.
We hosted "Kleros y el Futuro de la Justicia Descentralizada", a conference in Spanish organized in collaboration with Legalhackers Guatemala.
We launched Linguo, the first decentralized translation marketplace secured by Kleros dispute resolution.
December, 2020
Kleros reaches 500 cases solved.
Prediction market case 532 is resolved with over 2.5M$ in value settled by Kleros.
The Kleros governor becomes fully decentralized.
The fellows from the fourth batch of the Kleros Fellowship of Justice are accepted.
January, 2021
We partnered with Union Finance for the use of Kleros dispute resolution in decentralized asset protection claims.
We participated at Stanford's Blockchain Law and Policy Summit 2021.
February, 2021
A legal design workshop is conducted with the judicial branch of the Dominican Republic for identifying Kleros use cases.
March, 2021
The Proof of Humanity Dapp is released. A universal basic income token, in partnership with the Democracy Earth Foundation, is distributed to all profiles registered in the platform.
A month after launch, Proof of Humanity approaches 3000 submitted profiles.
Development Activities
Development activities included technical improvements on existing products as well as the launch of new products.
The Kleros Court was updated in order to handle use cases requiring non-binary outcomes. It is now possible for arbitrable applications to request a result such as multiple choice, text or a numeric value.
The ability for arbitrable applications to select a secret ballot court has been added based on cryptographic commitments.
The governor contract of the Kleros protocol has been fully decentralized. Decisions made by the community through the governance mechanism are now enforced on-chain, turning Kleros into a truly decentralized organization. Modifications to the court tree and parameters need to be done by voting on community proposals.
In order to keep up with the governance debates in Kleros, join our forum here.
As a pilot, we created a cross-chain arbitration bridge between Kleros (on Ethereum) and reality.eth (on the xDAI side-chain). This bridge was then expanded to a more general version allowing Kleros to resolve disputes on various EVM-based chains (xDAI, POA network, RSK, etc).
We launched Curate, a Dapp enabling users to create their own token curated registries. Curate has been used for distributing marketing bounties (such as the Kleros Storytelling program), for the verification of valid prediction markets in Omen and for an open innovation pilot with an insurance company.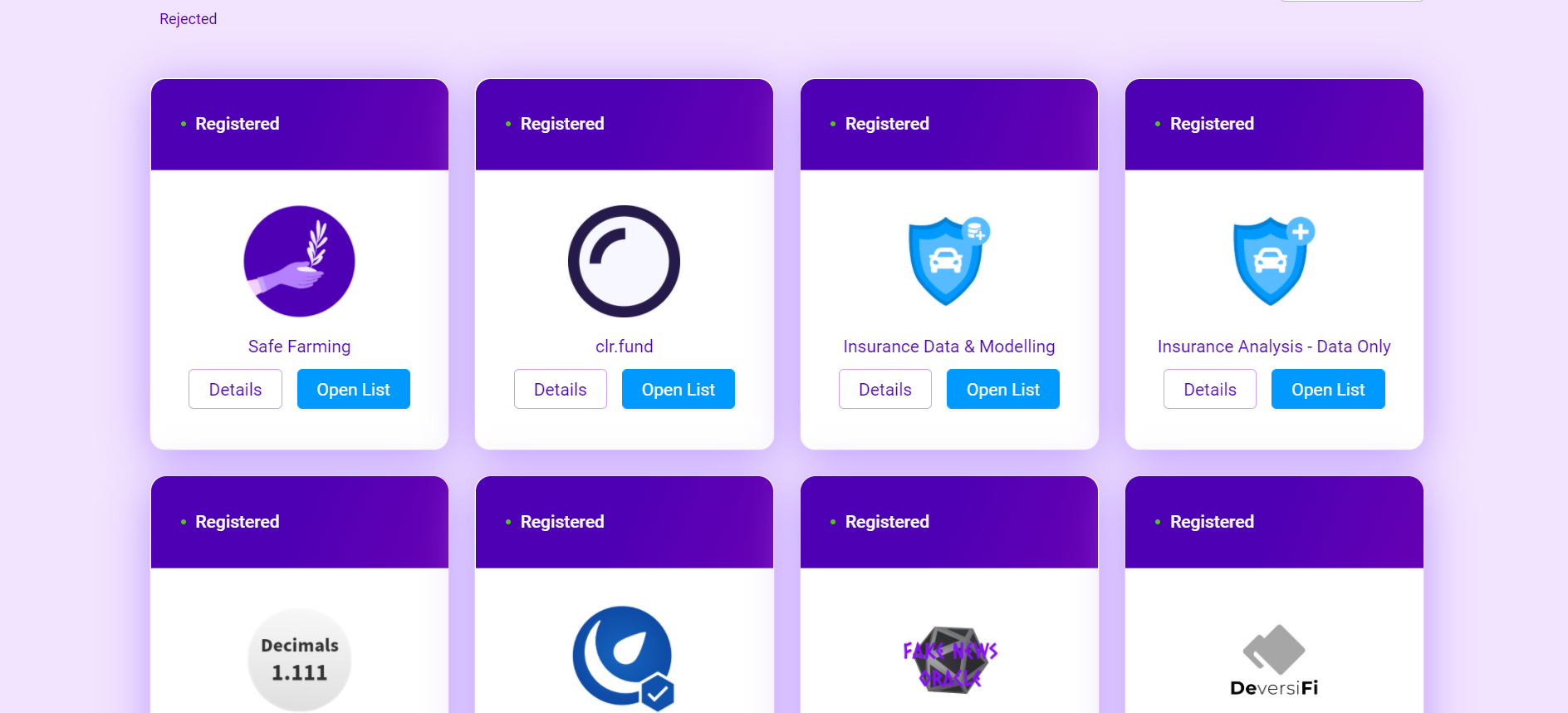 New tooling was developed for the Tokens Dapp in order to ease the integration by third parties.
The Cooperative released a beta version of Linguo, a translations marketplace based on a system combining Kleros' curation and escrow technologies.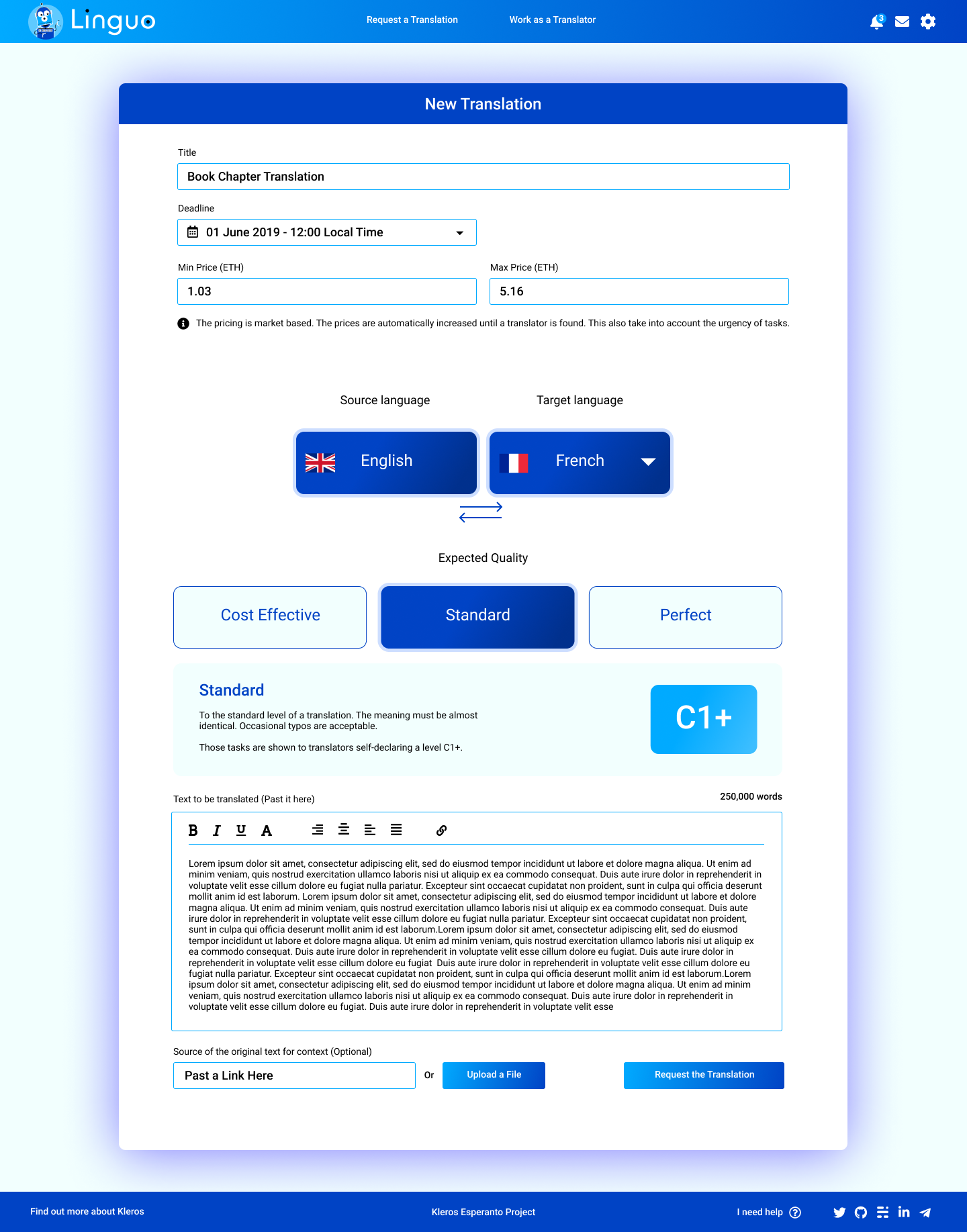 A new version of the Dispute Resolver was developed, with a number of enhancements such as a revamped interface and support for non-binary disputes.
A React library and widget were developed allowing e-commerce platforms to integrate escrow payments secured by Kleros. The goal is to offer platforms the ability to accept escrow payments with a simple "Pay with Kleros Escrow" button.
We developed and launched the Proof of Humanity Dapp, a sybil resistant registry with the goal of creating a secure list of humans for a wide variety of online applications.
A new Kleros Design System was launched, in an effort to standardize and improve the quality of the design of all the Dapps developed by the Cooperative.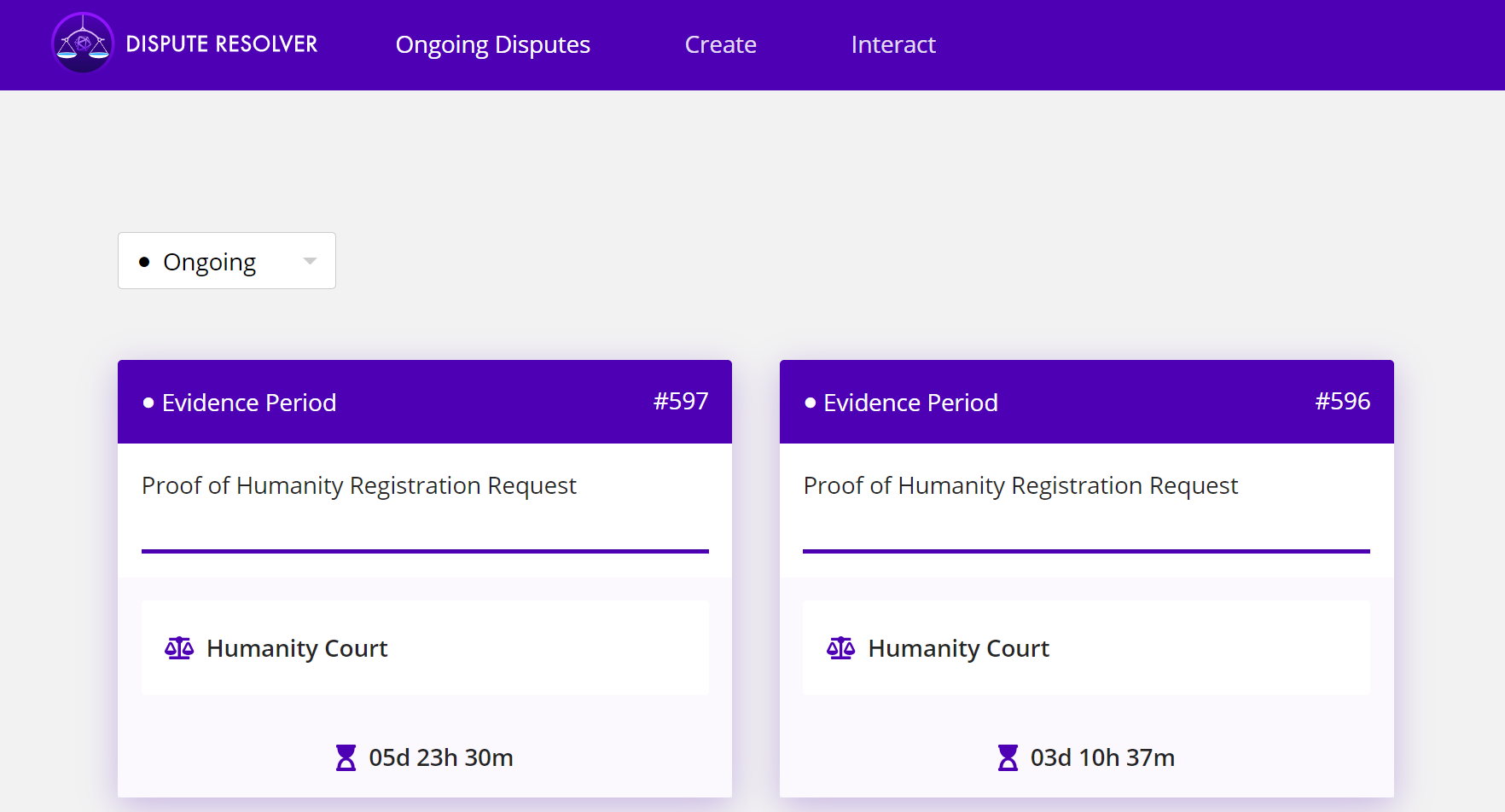 Research
From the point of view of research, we have conducted the following activities:
We have explored appropriate voting and incentive systems for situations where Kleros jurors must choose between more than two possible outcomes. For example, who should be responsible for paying for damages when there are more than two implicated parties?
We have studied how the landscape of scaling solutions being developed for Ethereum impacts Kleros (e.g. Eth 2.0, Optimistic Rollups, zk-Rollups, etc), and what Kleros could look like under these various frameworks.
To learn more about different scalability options for Kleros, check this article.
We have considered how Kleros itself might be used as part of a Layer 2 scaling solution, where Kleros is used as an oracle to resolve disputes regarding the state of execution of a Rollup.
We have made improvements to the model we use to obtain recommended parameters for Kleros courts, taking into account, for example, more nuanced perspectives on risk aversion and gas price variability. The logic of this updated model was coded into a calculator that community members can experiment with and use themselves to make parameter update proposals.
The Kleros Fellowship of Justice program has continued on full steam, enabling community members to conduct research relevant for expanding the use cases of the protocol and informing business development activities.
The paper "Decentralized Justice: A Comparative Analysis of Blockchain Online Dispute Resolution Projects" coauthored by Federico Ast, Yann Aouidef and Bruno Deffains was published in the Blockchain for Good series of the Frontiers in Blockchain publication.
The article "When Online Dispute Resolution Meets Blockchain" co-authored by Federico Ast and Bruno Deffains was accepted for publication at the Stanford Journal of Blockchain Law & Policy.
Our research on p+epsilon attacks as well as on parallels to the classical impossibility theorems in social choice theory to the context of Schelling-point based systems, has taken the form of academic articles that have been submitted to and are currently undergoing peer review by academic journals.
Kleros is consistently referenced in academic journals as a leading project in blockchain, law and economics. Some papers are: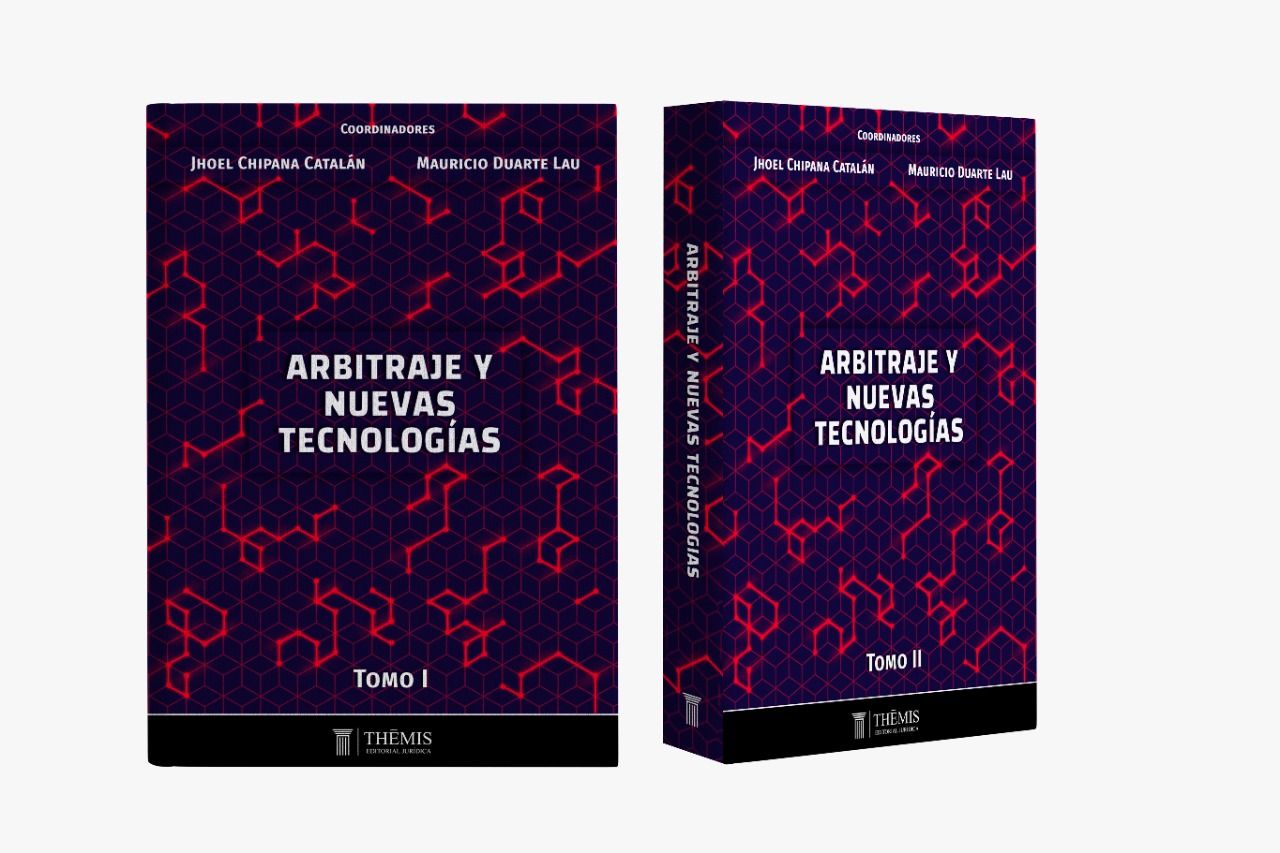 Marketing and Business Development Activities

Kleros aims to become a dispute resolution protocol which provides "justice as a service" to a wide variety of applications in the decentralized ecosystem and beyond.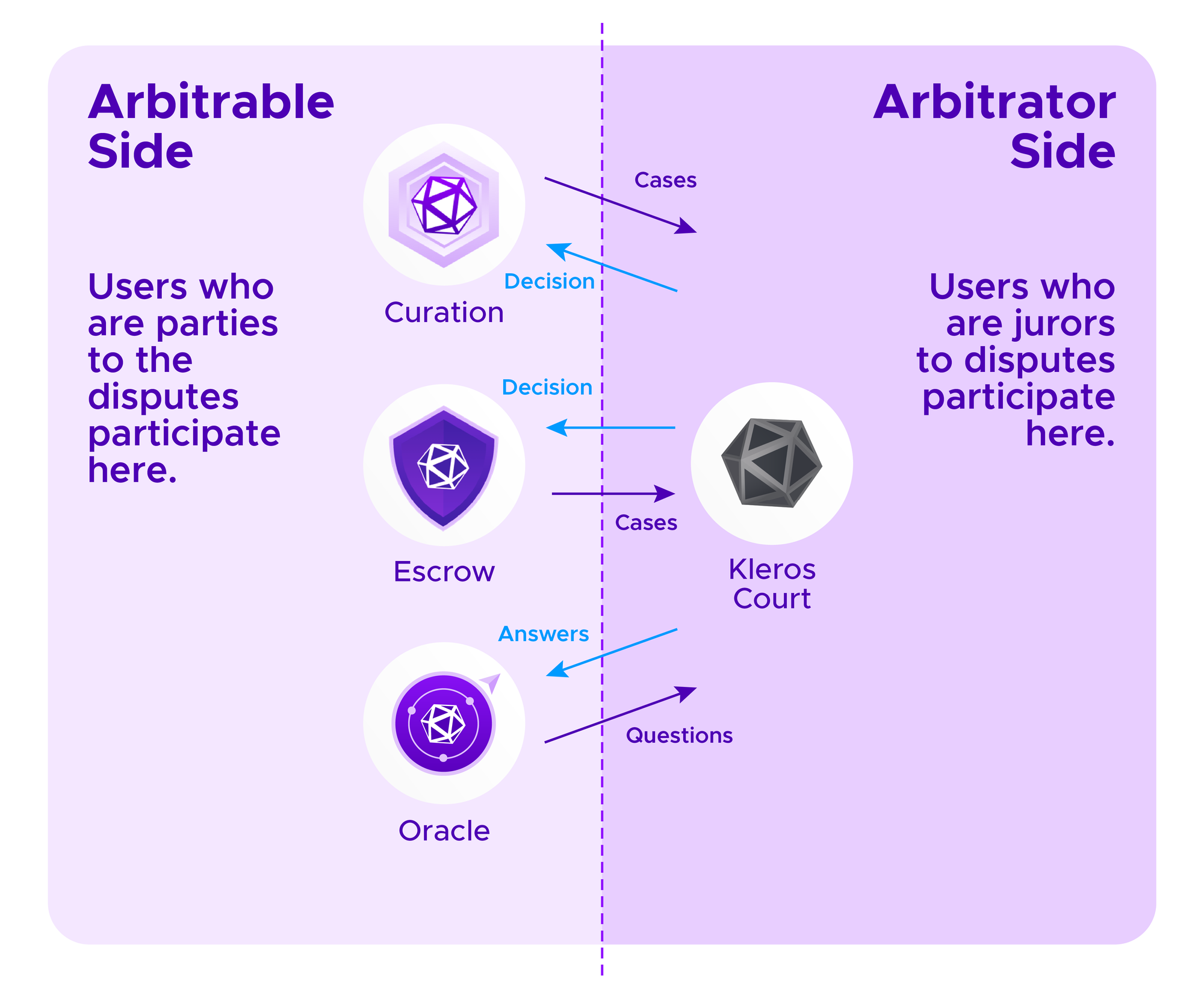 A wide range of marketing, communications and business development activities were conducted in order to increase the number of integrations and the number of cases which are resolved in the Kleros protocol.
A large number of blog posts, explainers, articles, videos and social media material were produced in order to promote the Kleros protocol. Social media impact was high including mentions and follows by global technology leaders such as Balajis Srinivasan, Naval Ravikant and Jack Dorsey.
The "Decentralized Justice Broadcast" was launched, a podcast discussing different aspects of decentralized justice. Some of the guests who participated in the podcast include Colin Rule and Salim Ismail.
The Kleros Guild of Justice was launched, an ambassador program with the goal to foster the growth of the Kleros community at a global level.
A number of activities were conducted for streamlining the integration process: a full mapping of integration opportunities, the creation of a template for Kleros integration proposals and the implementation of a CRM tool to monitor the integration pipeline.
We started the development of a new documentation hub to enable projects interested in integration to move forward autonomously through the first steps of technical discovery.
The Cooperative entered into token swap agreements with Gnosis (for 1,000,000$) and API3 (for 150,000$) in order to establish strong collaboration foundations with these projects for the future.
We launched the Kleros/Maker Fellowship in Decentralized Finance in partnership with the Maker Foundation. Both organizations have partnered in funding a six month research project to study the application of Kleros curation technology to assist the MakerDAO community in the process of onboarding new collateral into the DAI stable coin.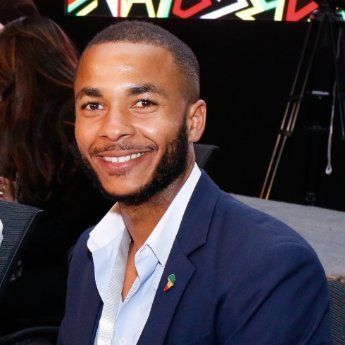 The Cooperative partnered with the Democracy Earth Foundation for the launch of UBI, a universal basic income token, as the first application built on top of the Proof of Humanity registry.
A number of activities were conducted for the use of the Kleros protocol in mainstream use cases beyond the blockchain ecosystem. A joint pilot is being conducted with the Mediation, Arbitration and Conciliation Center (CEMAC) for using the Kleros protocol in solving landlord/tenant disputes.
A legal design exercise was conducted with the Department of Justice of the Dominican Republic in order to use the Kleros protocol for addressing family law cases.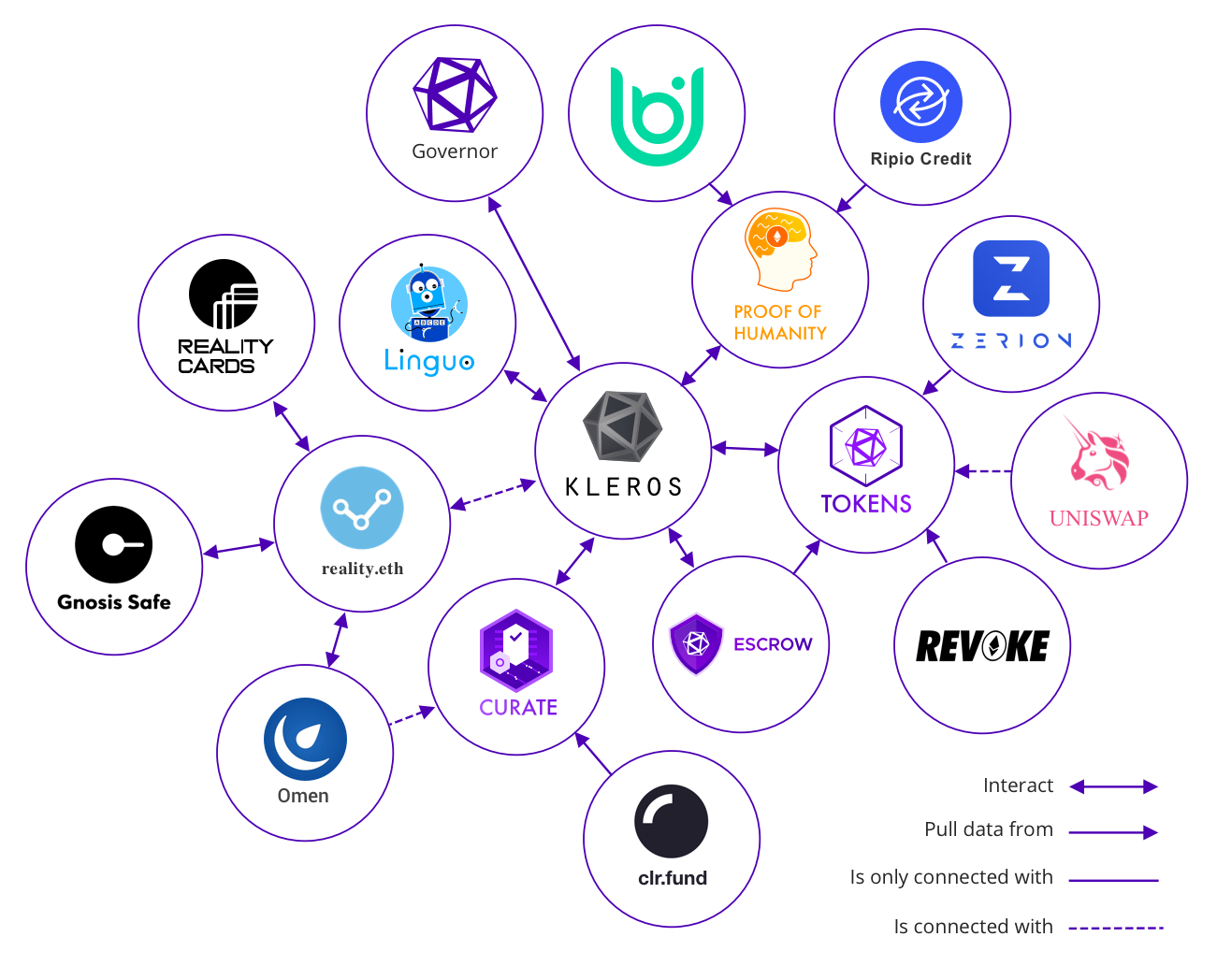 Financial Situation
A key achievement of the past fiscal year was securing a solid financial position for the Cooperative. This was the result of a number of converging aspects.
The Cooperative won the Blockchains for Social Good of the Horizon 2020 award by the European Commission with a prize of €500,000 euros.
The cryptoassets market experienced sustained growth, especially in the second half of 2020. This resulted in a sharp increase in the price of most cryptoassets in the Cooperative's treasury.
The Cooperative adopted an active treasury management strategy to profit from yield farming opportunities. Returns obtained from these activities also resulted in a sharp increase in the treasury.
As a result of these elements, to the day of March 22nd 2021 the Cooperative held a treasury in the vicinity of €26 million euros - of which around €12 million were held in PNK - which ensures a comfortable long term runway for future operations even in case of market downturn.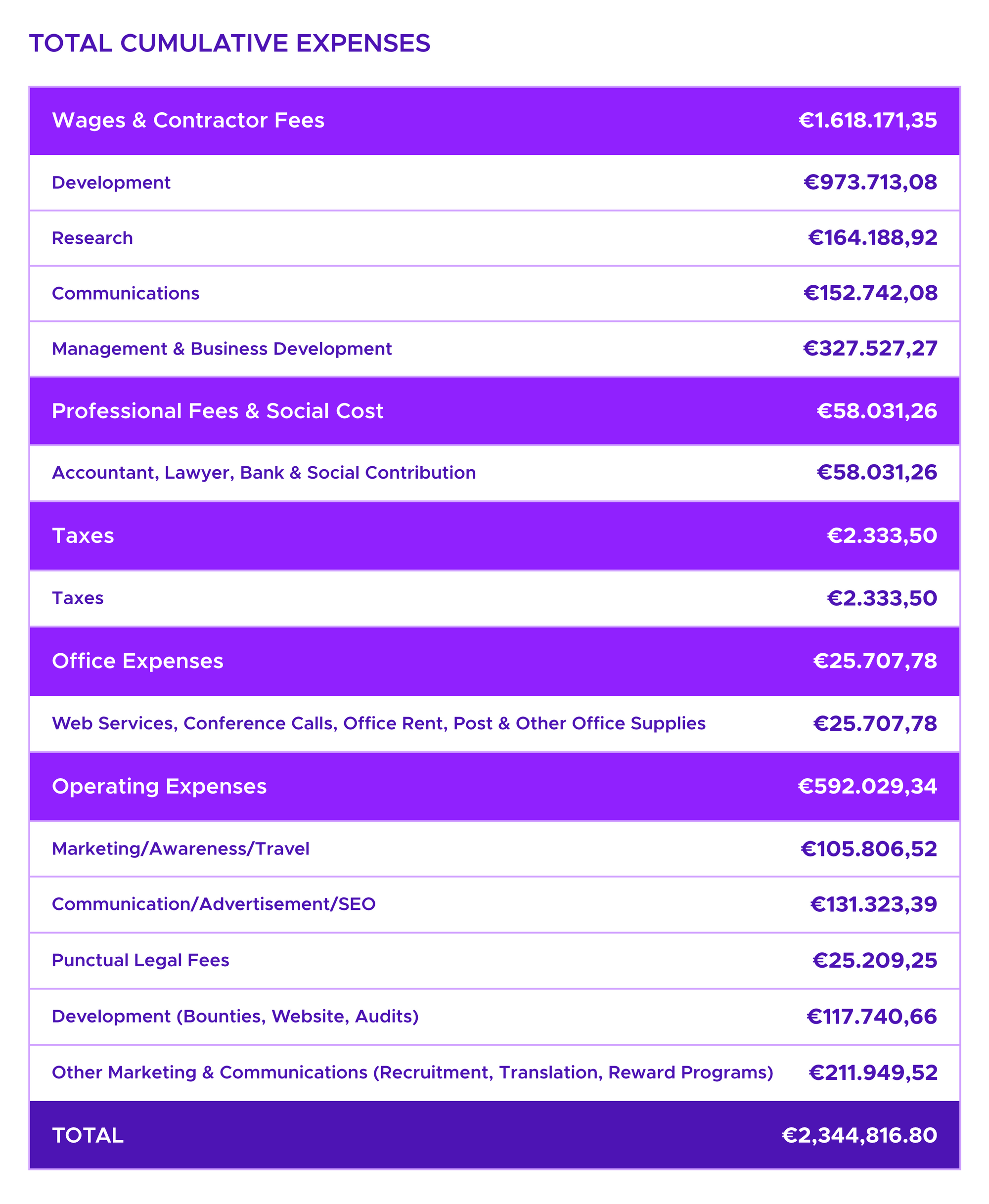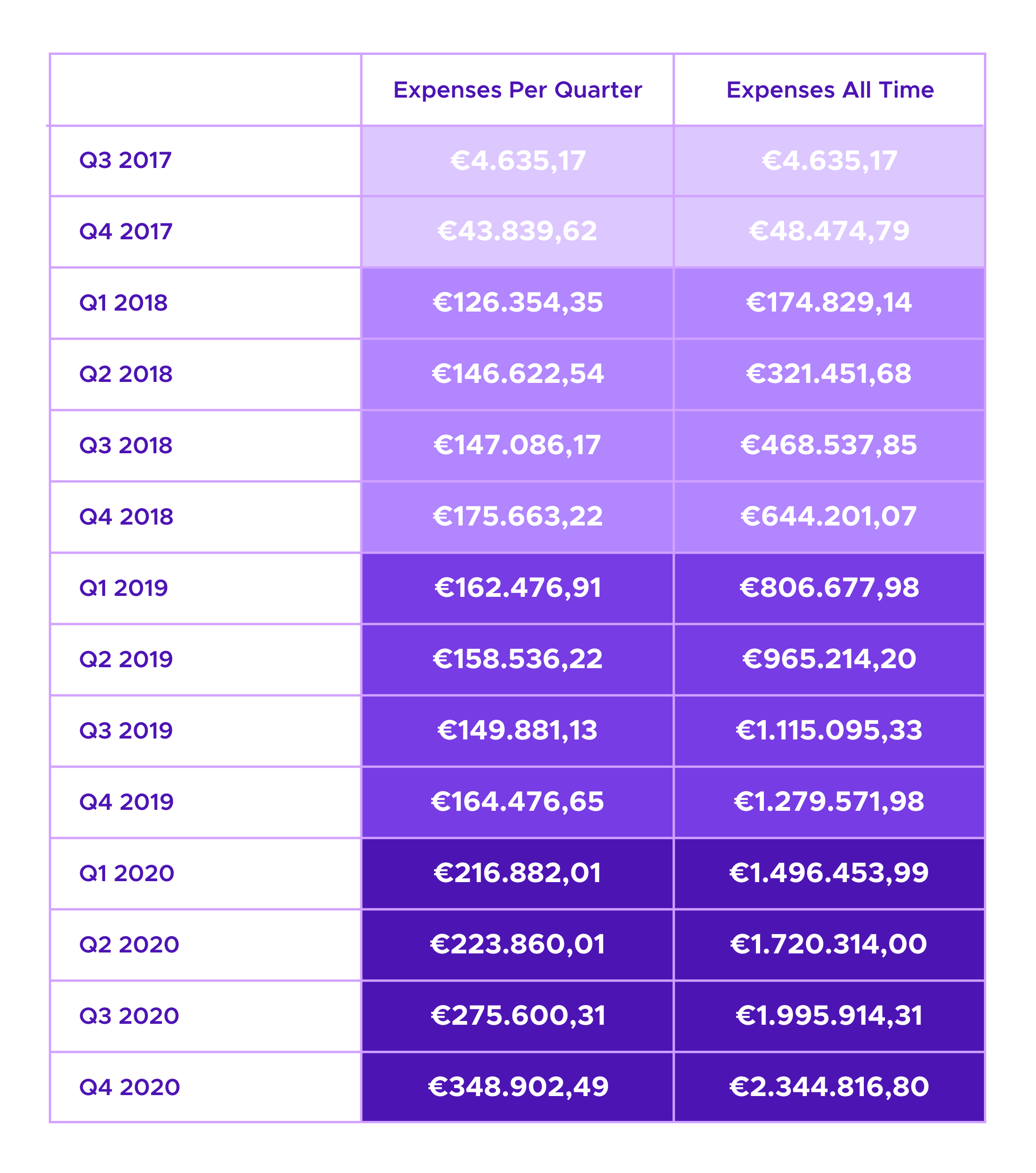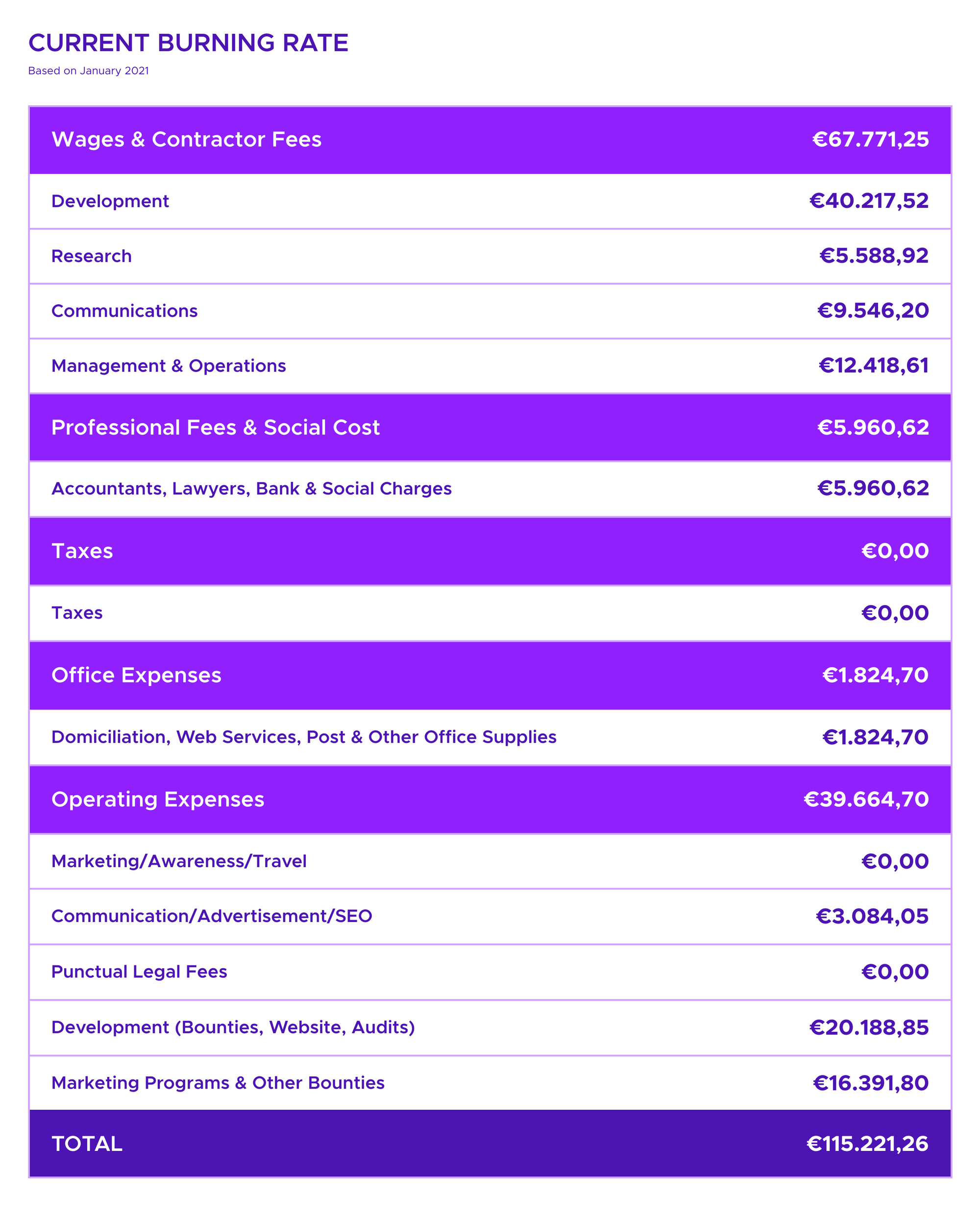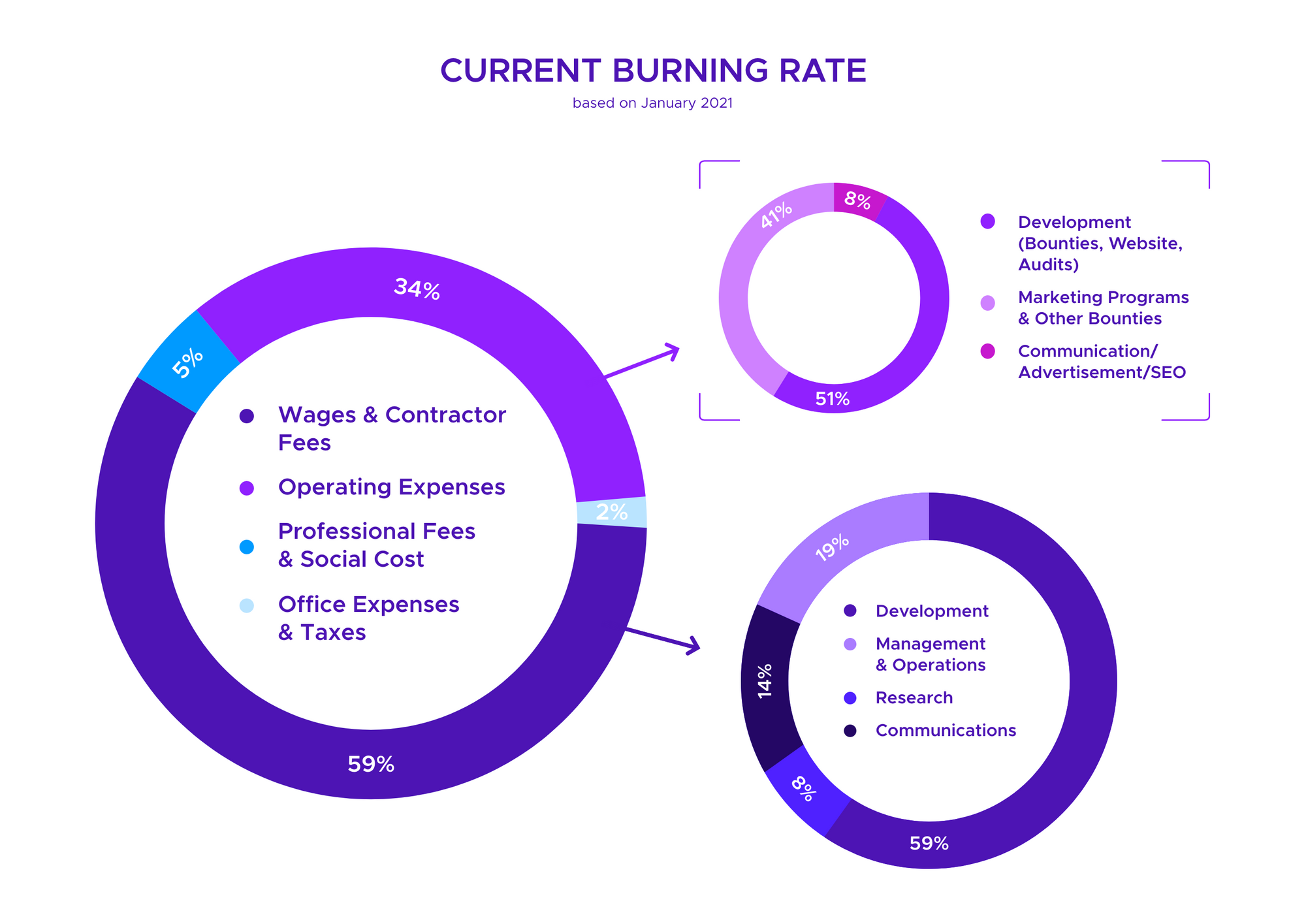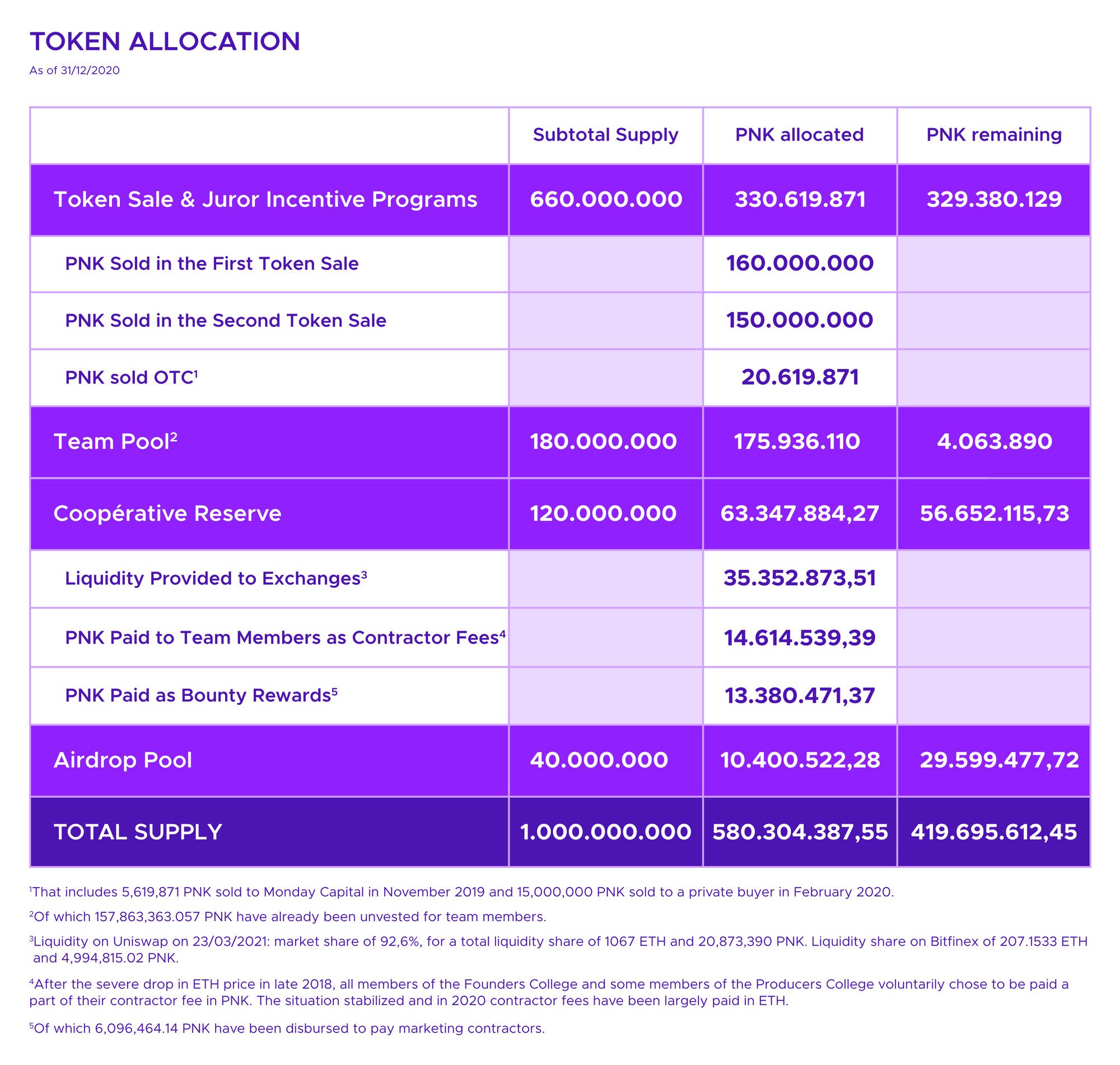 Conclusion
In the past several months, Cooperative Kleros conducted a number of activities for the growth of the Kleros protocol.
Continuing with the development of the core Kleros protocol, according to the projected research and development roadmap.
Launching a number of showcase Dapps covering the main use cases of the Kleros protocol, including escrow, token curated registries and oracle.
Conducting research relevant to increasing the efficiency and security of the Kleros core protocol and broadening potential use cases.
Strengthening Kleros protocol positioning as leader in the decentralized justice industry.
Securing the necessary funding for sustaining operations in the year to come.
In a tough general economic environment, Cooperative Kleros has thrived and is in full growth mode.
The COVID pandemic might even become a catalyst for further decentralization of economic interactions. In a context where more work, capital and assets start to be transacted in decentralized value networks, the need for a trustless and decentralized dispute resolution service such as Kleros cannot be overlooked.
Where Can I Find Out More?
Join the Kleros Discord
Join the community chat on Telegram.
Visit our website.
Follow us on Twitter.
Join our Slack for developer conversations.
Contribute on Github.
Download our Book