Today marks the launch of the fourth generation of the Kleros Fellowship of Justice.
Since its' inception in 2018, we did not imagine we would welcome such incredible minds - from high level attorneys and arbitrators to social scientists, entrepreneurs and students, all focused on delivering novel tools to advance our goal of bringing justice to the unjusticed.
The Fellowship has now truly become global, bringing together experts from every corner of the Earth. After a long and arduous selection process, we are ready to welcome and support our new Fellows in their research and development.
We are incredibly proud to have such a hard hitting group of professionals on board, so let us welcome them into the fold!
---
Juan Escallon
Juan Escallon is a Colombian lawyer and entrepreneur, graduated from the Universidad de Los Andes in Bogotá. He obtained an LLM in International Economic Law at Johannes-Gutenberg Universität Mainz and an Executive MBA at Goethe-Universität Frankfurt. Later, he was involved in diverse legal tech projects before joining the crypto industry full time in 2017.
During his time in the Fellowship, Juan will explore uses cases for decentralized curation solutions in Decentralized Finance (DeFi). In particular, the implementation of Kleros' Token Curated Registries (TCR) as a tool for risk assessment, legal compliance, and quality standard for DeFi assets.
---
Viraj Ananth
Viraj Ananth is a final-year B.A. LLB (Hons.) student at the National Law School of India University, Bangalore. He currently works with SYKE Legal Engineering as a legal technology consultant and serves as the Deputy Editor-in-Chief of the National Law School of India Review. Post-graduation, he is keen to pursue a career in the intersection of law, technology and business.
During the Fellowship, Viraj will research Kleros Layer 2 business models for B2B and B2C disputes in the Application Programming Interfaces (API) markets.
---
Boulevard A. Aladetoyinbo
Boulevard A. Aladetoyinbo earned his LLB degree from the University of Jos, Nigeria and his BL from the Nigerian Law School, Lagos Campus. He is the Head of the Cryptoasset Capital Formation Practice at lexfuturus.io, a global blockchain & DLT law firm & consultancy. Among others, he's contributed to efforts of Monetary Authority of Singapore (MAS), Singapore, the Securities and Exchange Commission (SEC) in Nigeria and the International Organisation for Securities Commissions (IOSCO) to set standards and regulate cryptoassets.
In the course of the Fellowship, Boulevard will research how to leverage Kleros as a decentralized justice dispute resolution layer for the financial markets.
---
Danna Burshtine
Danna Burshtine is an undergraduate student at the University of Chicago. She is currently planning on obtaining her Bachelor's degree in Law, Letters, and Society as well as Anthropology, with a focus on Legal Anthropology. She is currently engaged in several non-profit organizations, such as the National Council of Jewish Women New York and Debate it Forward.
For the Fellowship, Danna will focus on conducting an anthropological understanding of the incentives of Kleros jurors. This research will delve into the establishment of law and social custom in decentralized online arbitration.
---
Alicia Betancourt Mainieri
Alicia Betancourt Mainieri is a Colombian lawyer specialized in public and urban law. Beside being CEO and Cofounder of JurisDATA, she teaches History and Comparative Law and Constitutional Law at EAFIT University where she also designed the program of law, innovation and technology.
During her time in the Fellowship, Alicia will research the application of Kleros for justice inclusion in Colombia.
---
Romain Willmann
Romain Willmann is a cybersecurity specialist based in France, focusing on compliance and risk management for financial services companies. After finishing his Master of Science at the Emlyon Business School, he was appointed as a part-time lecturer at that school.
During his time in the Fellowship, Romain will research how Kleros can be used to offer decentralized income insurance. He will especially focus on how its online dispute resolution mechanism can be used to make custom insurance quotes and assess trustworthiness in a neutral way.
---
Jack Nevile
Jack Nevile is a law graduate from La Trobe University, Melbourne, and works in matters concerning public administrative law. He is interested in the application of decentralized justice to create fairer, more open jurisdictions, and giving people all over the world access to affordable and reliable methods of contracting with each other.
During his time at the Fellowship, Jack will be assessing the efficacy of Kleros against traditional legal forums by creating parallel cases and drawing conclusions based on the resulting data.
---
Bruno Ivančić
Bruno is an aspiring smart contract developer and a bachelor of Computer Engineering from Algebra University College in Zagreb, Croatia. Bruno is a big DeFi and Ethereum enthusiast and is passionate about building and researching online dispute resolution systems for the peer-to-peer economies of the future.
During the course of the Fellowship, as a participant in the DApp development track, Bruno will conduct research on random number generation methods in Kleros courts.
---
Mojgan Honarmandjavan
Mojgan Honarmandjavan earned her Master's degree in International Commercial Law at the University of Tehran (Iran) with distinction. She took part in domestic and international commercial arbitration during her studies and focused her Master's dissertation on the use of blockchain in international commercial arbitration.
Mojgan will participate in the Law and Society Track of the Kleros Fellowship and will research the obstacles to access to justice in emerging economies and Kleros' contribution to eliminating those obstacles.
---
Marvin Coleby
Marvin is a securities lawyer with a background in trade research - specifically focused on international disputes of investment contracts at McGill University Faculty of Law. He has designed investment policies, legal software and arbitration clauses for multilateral trade institutions and courts like the Caribbean Court of Justice. I'm currently the co-founder & CEO of Raise, a Binance-backed startup building a securities exchange for emerging markets.
Marvin will be the Kleros-Maker Fellow on Decentralized Finance, developing a framework for assessing the compatibility of cryptoassets acceptable as DAI collateral.
---
Olaleye Oladimeji, International Lawyer
Olaleye Oladimeji is an International Lawyer and Associate at the African office of the International law firm Aliant Law, specialized in diverse law practice areas such as Intellectual property (IP) protection, Telecommunications, Blockchain, Finance, Oil and Gas, Aviation, Entertainment, Sports, Data Protection, Project Financing, and Real Estate.
During his fellowship, Olaleye will conduct research on the use of blockchain technology such as Kleros as a tool for legal transformation across Africa, with a global outlook. The research paper seeks to make a case for the digital liberalization of the legal industry by African Lawyers and cross-border justice delivery systems in Africa by infusing centralized and decentralized technologies. The recommendations of this research paper will hopefully be implemented and form an integral part of the architectural policy framework in the repositioning of African legal systems in line with the African Continental Free Trade Area (AfCFTA).
---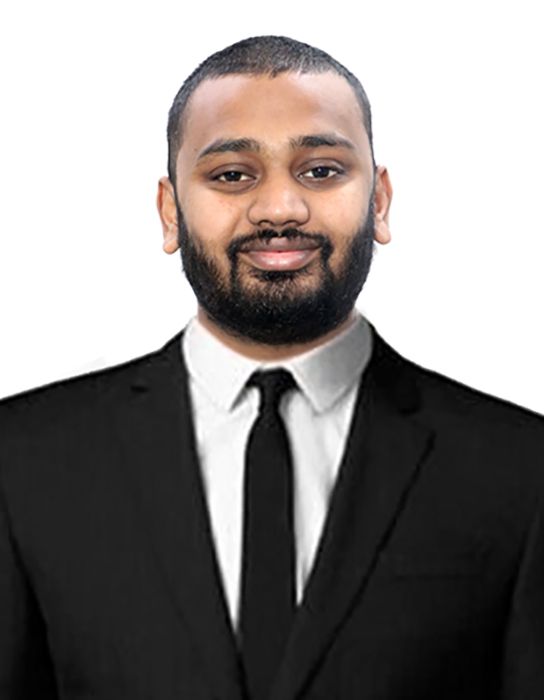 Sahil Barhate, Advocate
Sahil Barhate is an advocate graduated with honors from the National Law University in Delhi in 2019. Before commencing his LL.M. at the West Bengal National University of Juridical Sciences, he worked as an arbitration law clerk, focusing on domestic and international commercial arbitrations, particularly in the construction and infrastructure sectors.

During his time in the Fellowship, Sahil will research the application of Kleros in the Construction Industry, particularly in disputes at the pre-arbitral stage.
---
Our latest generation brims with new energy needed to push decentralized justice further into the global spotlight. Their work will continue building the cornerstones of this new approach to justice systems, enabling all of us to have accessible dispute resolution in hand's reach.
May their their labor bring fruit and may it light the way for years to come!
---
Where Can I Find Out More?
Join the community chat on Telegram.
Visit our website.
Follow us on Twitter.
Join our Slack for developer conversations.
Contribute on Github.
Download our Book