Tokens Reward Program - Securing Uniswap with Decentralized Lists
To celebrate Kleros as the only decentralized Token List on Uniswap, we have began a new reward program. Read on to find out more...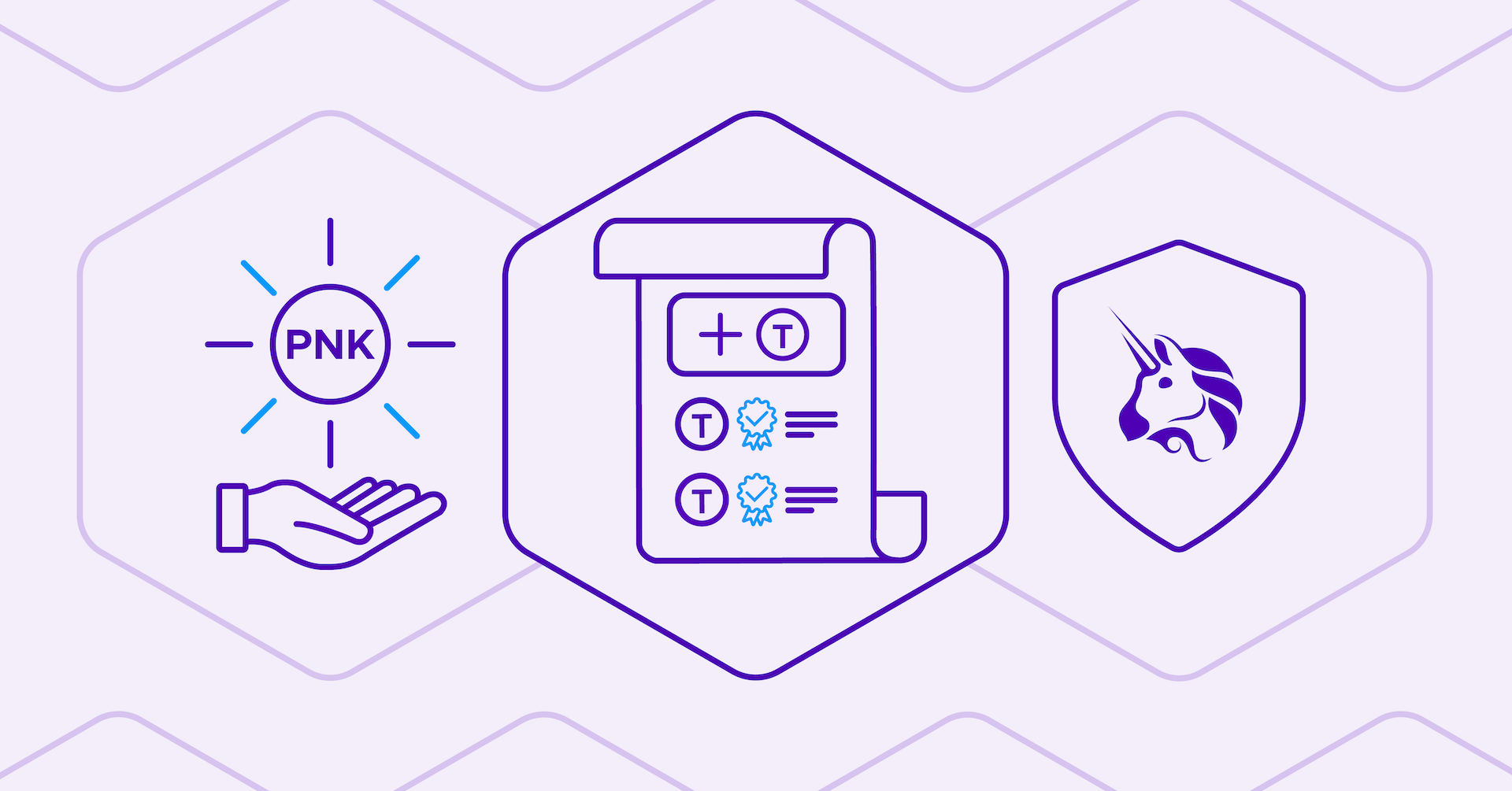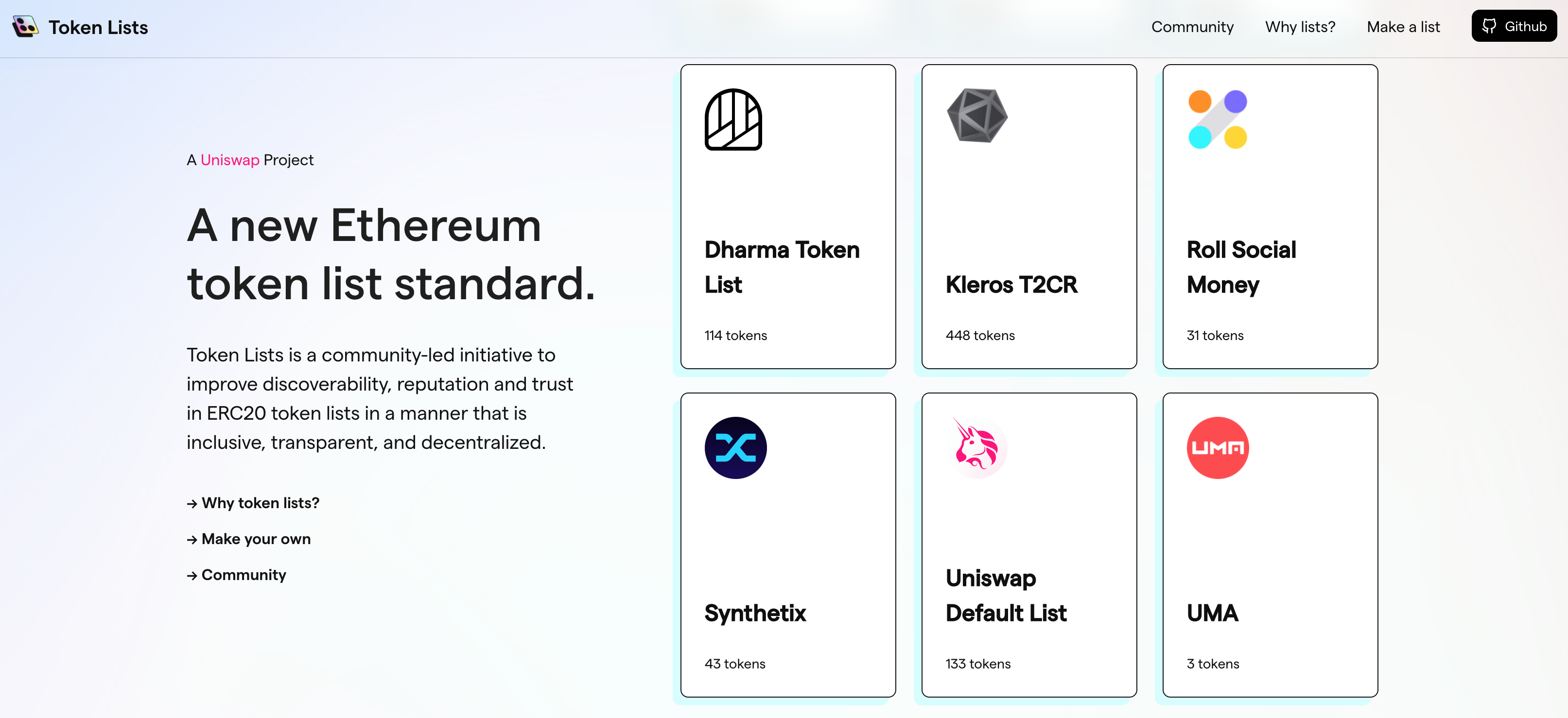 As the Kleros Token Curated Registry nears 500 submissions, we are excited to announce its use on Uniswap's lists. Kleros has a fully decentralized list curation mechanism allowing for the simple addition of tokens with ticker, logo, and respective contract address to be vetted by the overall community.

This gives users a basic level of security when interacting with Uniswap tokens and helps to root out the malicious copycat scam attempts we've seen in the current DeFi hype phase.
These submissions, once registered, are then able to have a number of attached badges which specify far more detailed information about the project.

For example, the ERC20 badge, when accepted, gives users peace of mind that the token conforms to a proper ERC20 standard. This can help to avoid failed transfers or lost funds from improper development practices.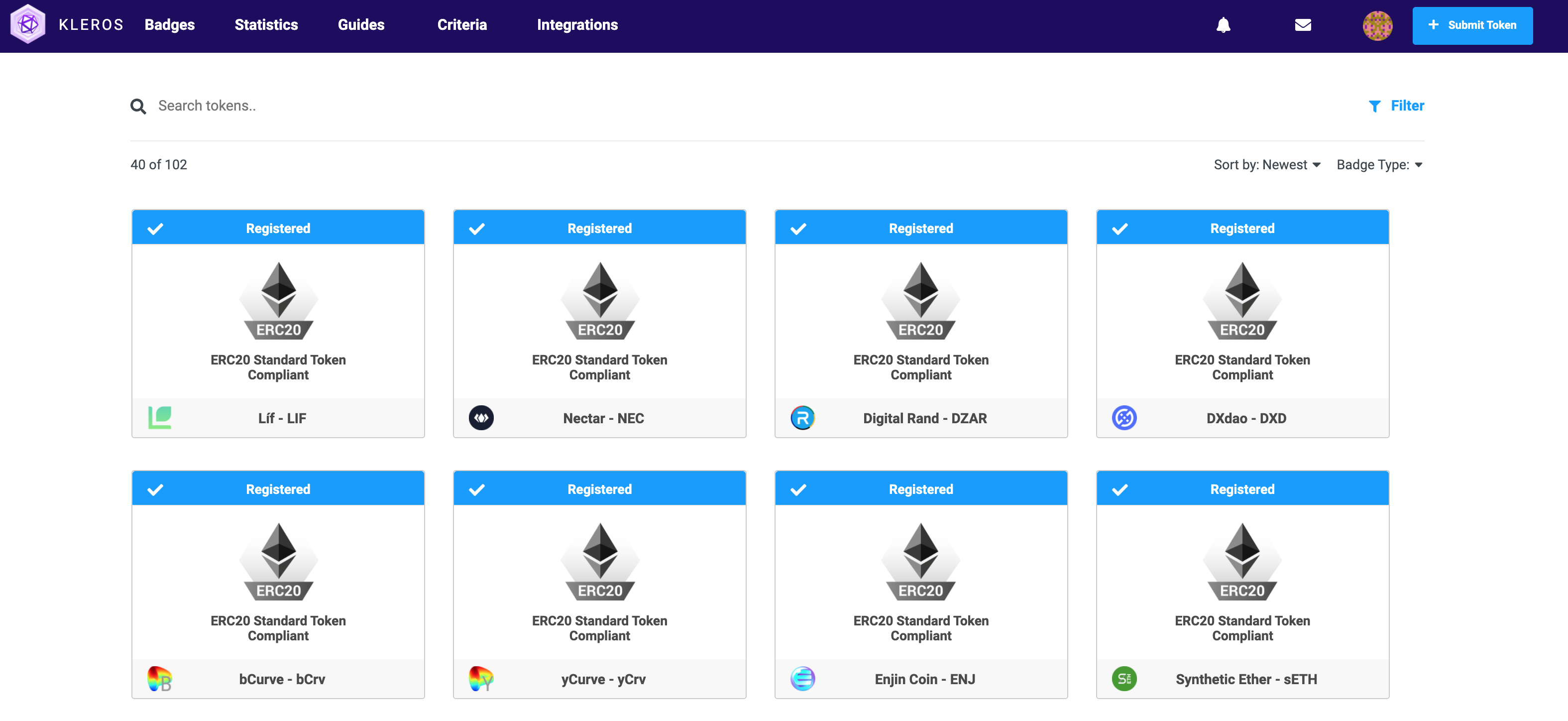 Rewards Program
We will open a new rewards program for those adding tokens to the list, successfully removing tokens and submission of ERC20 badges. Those will be distributed at the beginning of each month, starting in October and running until further notice.
EDIT: As of 11th December 2020, if there are more than 100 submissions, the rewards will be paid proportionally to all successful submission / removal requests.
For example: If there are 150 submissions in the given month, this would equal 100000PNK / 150 = 666PNK per submission.  
If there are 100 submissions or below, the following rules apply.
1000 PNK for tokens successfully submitted or removed, up to 100 per month.
3000 PNK for ERC20 badges of ERC20 tokens with at least 100k$ of liquidity on Uniswap (at the end of the month), up to 100 per month.
Rewards will be paid out the following month based on acceptance time to the list.
How Do I Submit a Token?
First you want to head over to tokens.kleros.io
First click on the 'Submit Token' button in the top right hand corner to be greeted with a pop up window as shown below.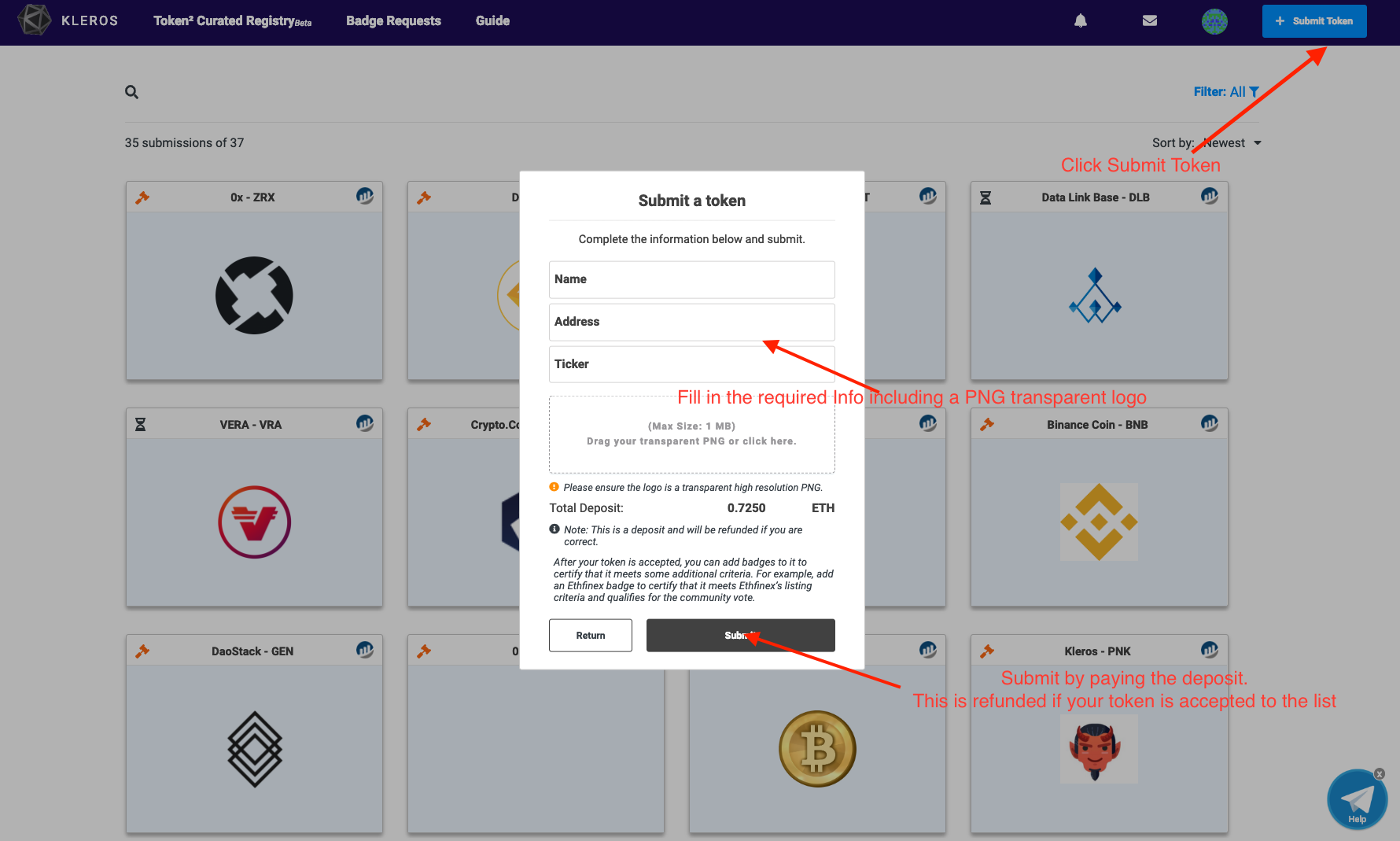 Upon submission, your listing should look something like the token below.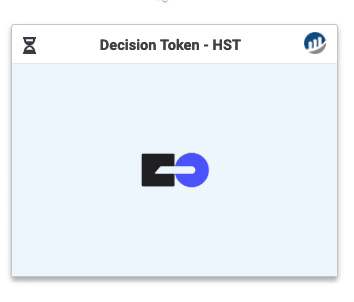 Upon clicking on your submission you will see the info displayed below including the challenge period. This is the time allotted for other users to challenge the listing in the case of incorrect data or logo format.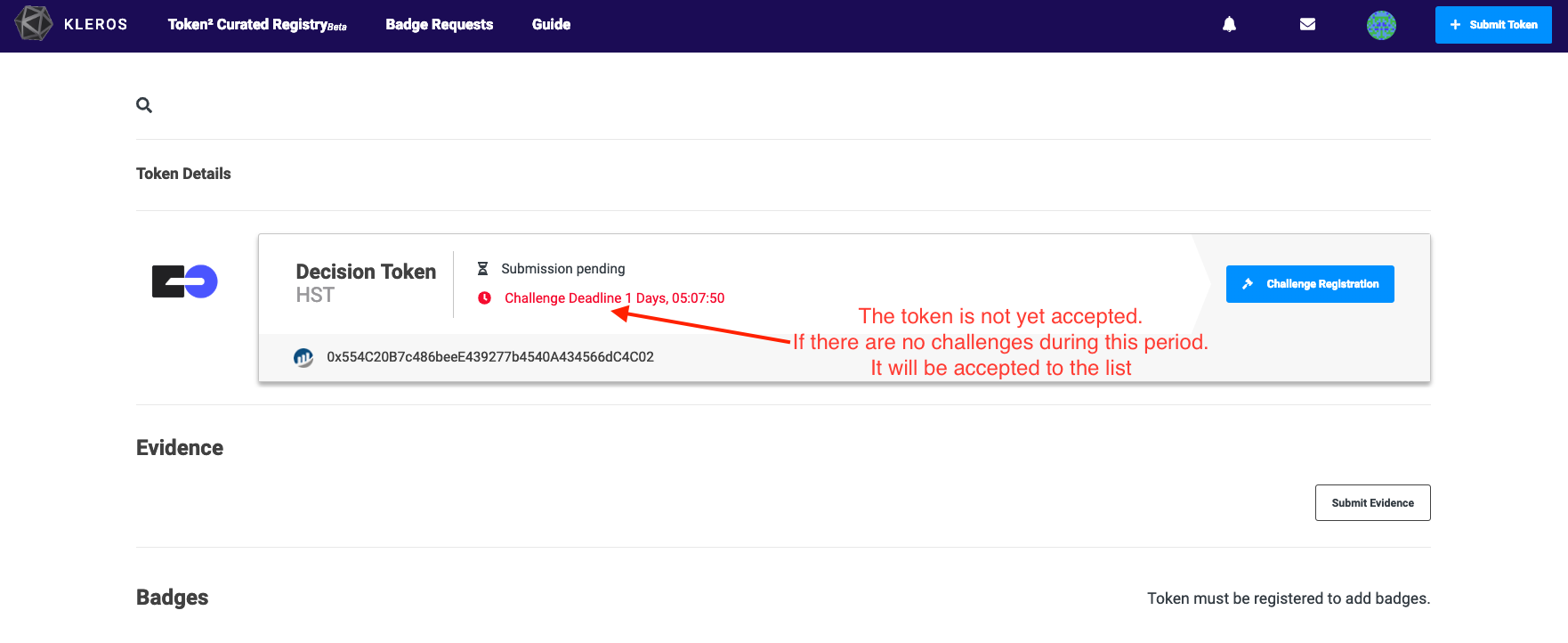 Once this challenge deadline has passed, the token status will change to 'Registered' as shown below. Remember, users can also challenge the submission, which will then send it to trial to be arbitrated on by Kleros jurors.
They will make the final decision based on any evidence given if the token should be listed or not.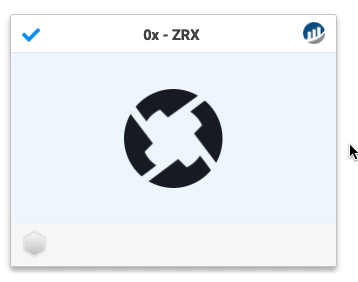 Once a token is successfully listed, the status will change to 'Registered' as seen above.
How to Add ERC20 Badges
Head on over to tokens.kleros.io and you'll be presented with a list of submitted tokens in various states. Some will be pending, others challenged and most accepted.
Click on the token to which you want to add the ERC20 badge and select the radio button for the ERC20. Click 'Listing Criteria' to read it before submitting.
NOTE: Only 'Registered' tokens are able to attain badges. To learn how to register your token in the T2CR, read this tutorial.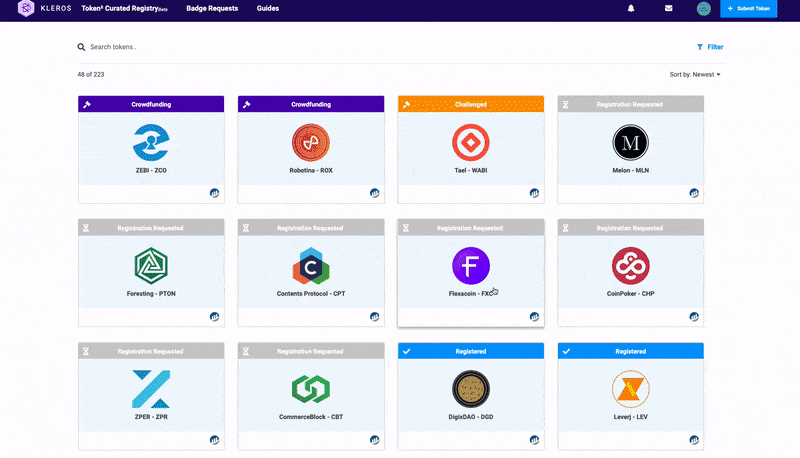 Be sure to read the listing criteria carefully before proceeding. You can see them in full below.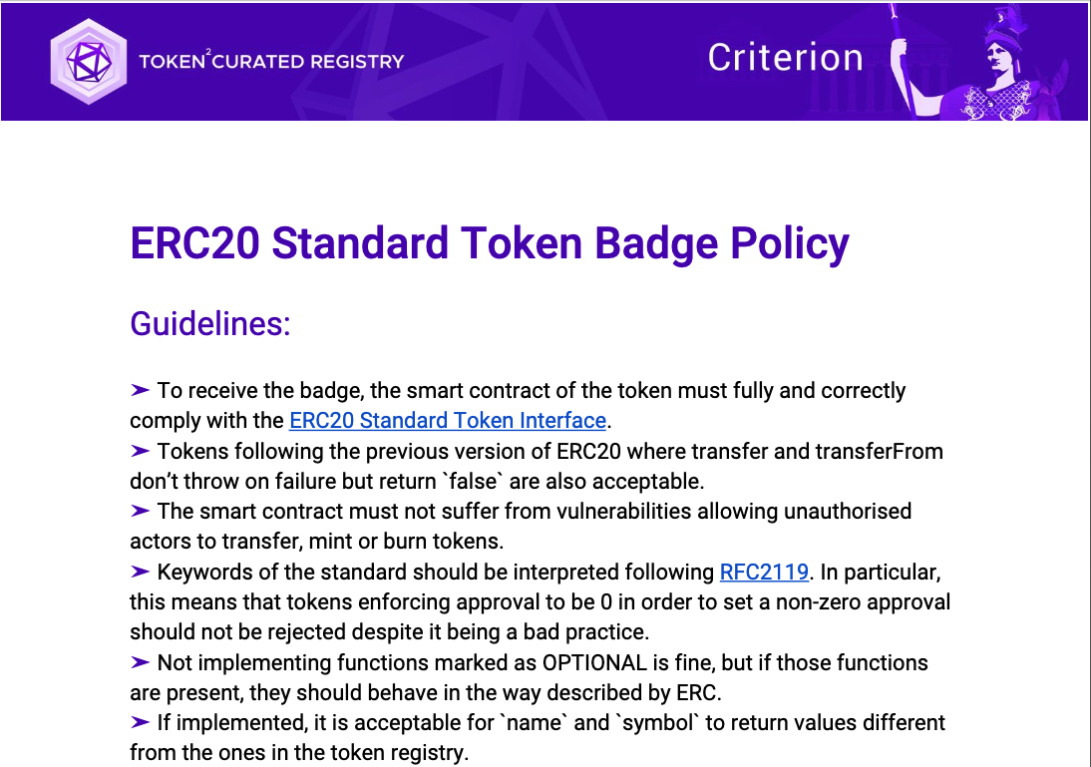 When you're 101% sure the token complies with the ERC20 standard click 'Add Badge' and pay the 14.04 ETH deposit.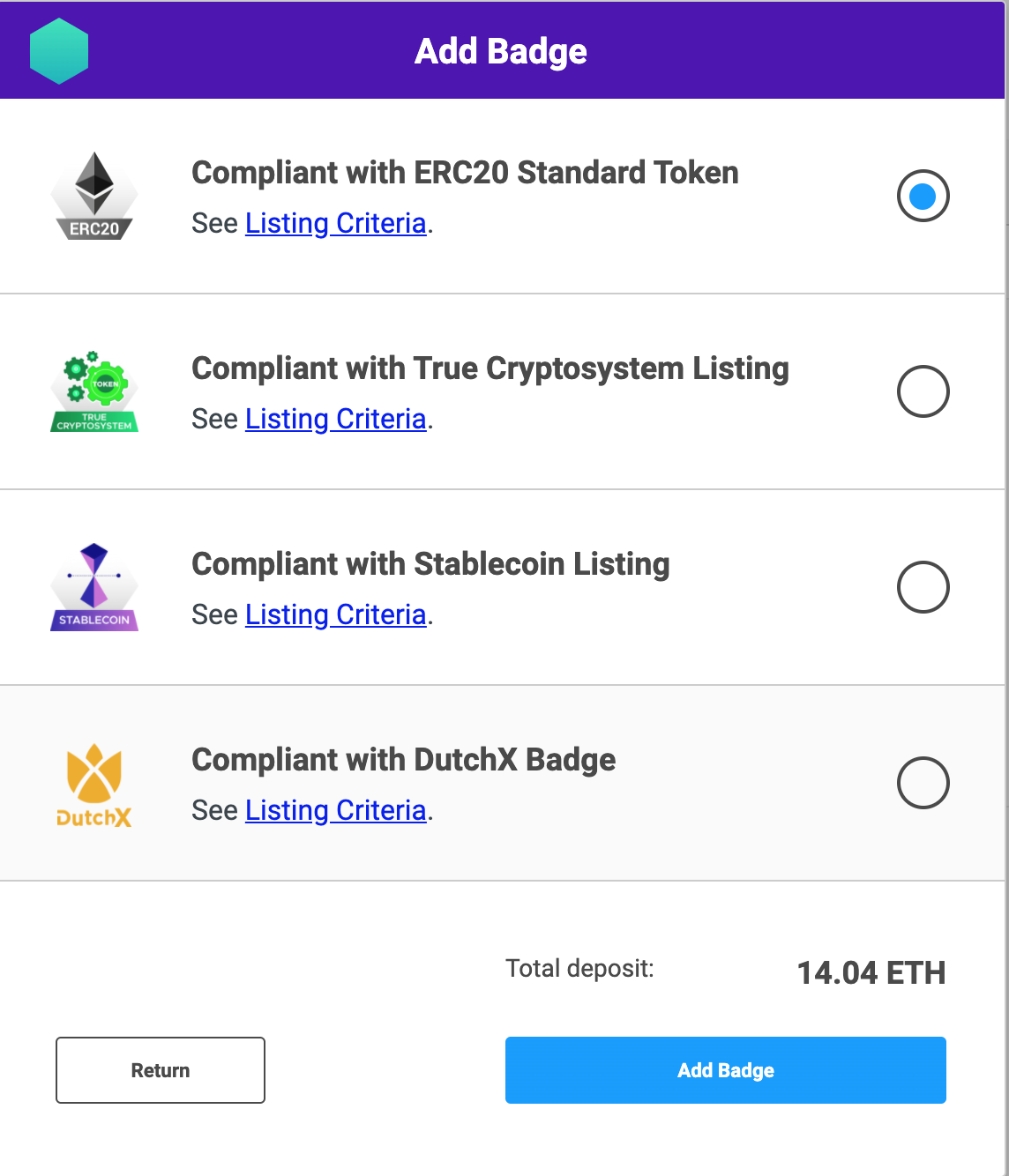 MetaMask will pop up asking you to confirm the transaction. Double check all the info and click 'Confirm'.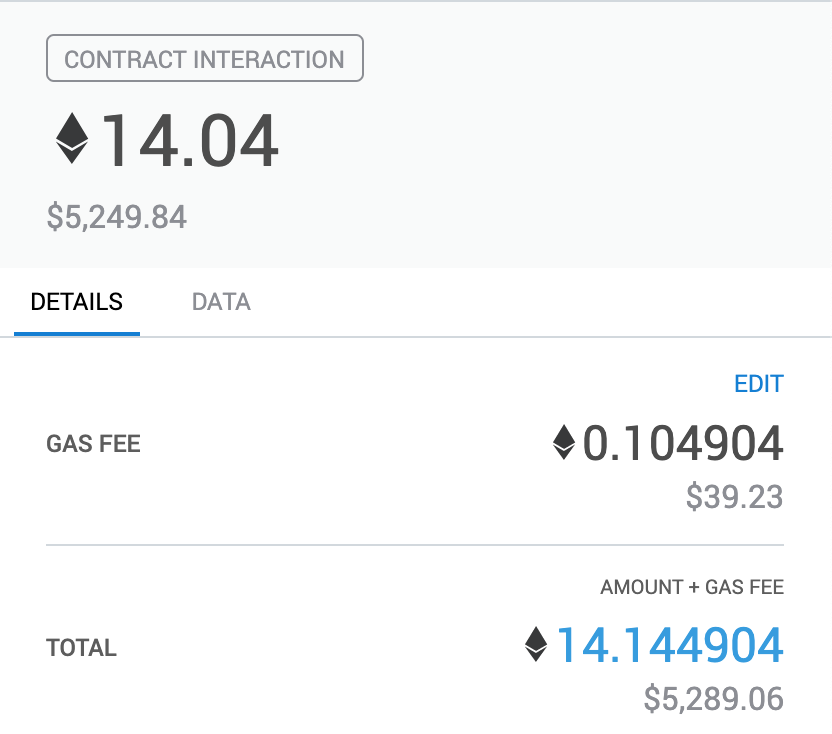 Once you've confirmed the TX, the badge will be set to a 'pending' state in which any user can check to see if it meets the policy requirements.
If the badge submission is accepted, the badge will then be added to the list at the end of the pending period and the submitters ETH returned.

If, on the other hand, it is challenged, the case would then go to Kleros court for our jurors to decide on.
How to Select the Kleros Token List.
Setting up Kleros as your Uniswap lists tool is extremely simple. When first landing on Uniswap you'll be prompted to select a list.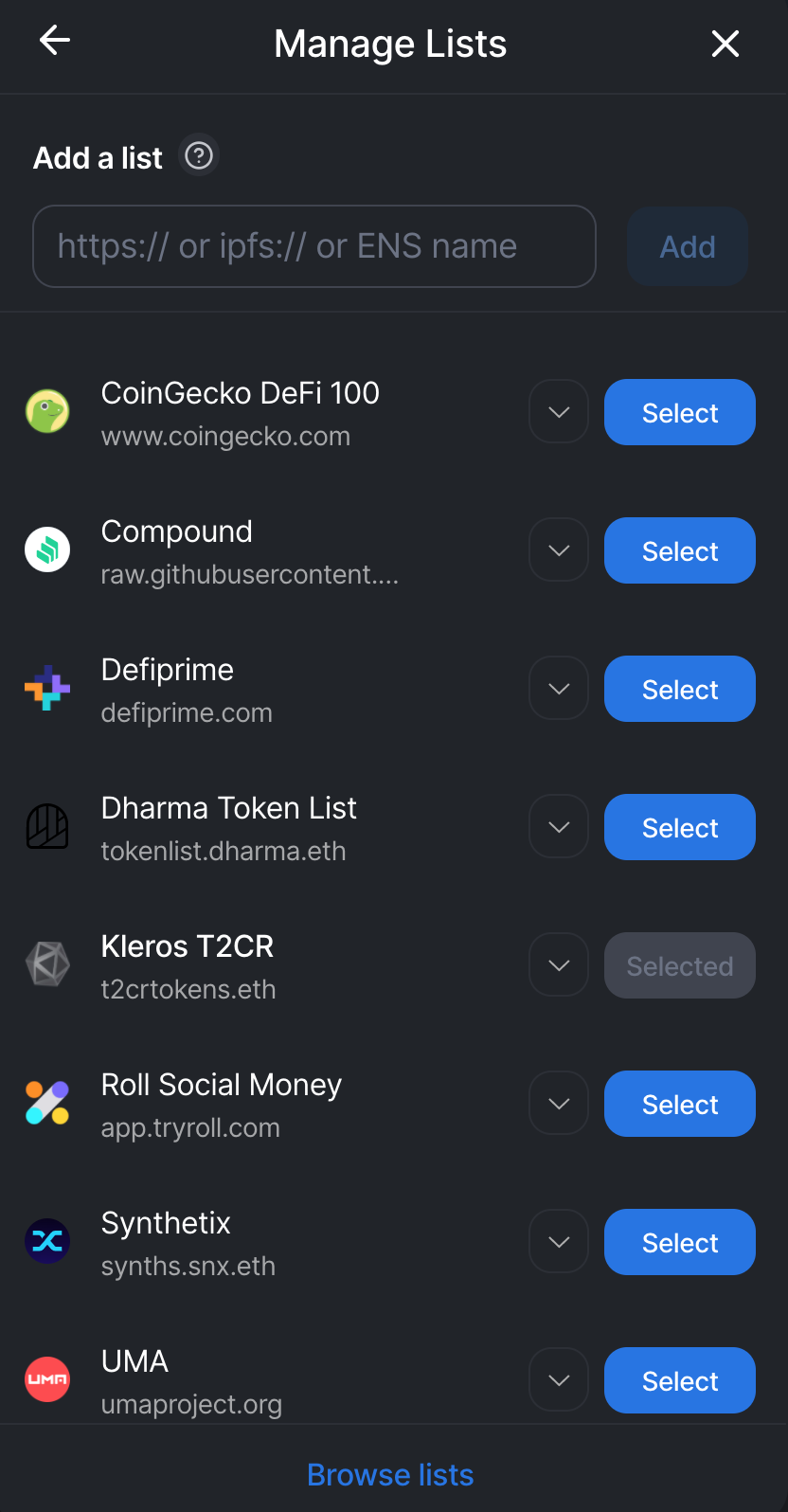 Select Kleros as seen above and that's it! Now, you are using a fully decentralized solution to help secure your token interactions on Uniswap.
You can browse the list via our Dapp or alternatively, use Uniswaps own frontend to check out the newest updates there.

Kleros is committed to securing the DeFi ecosystem and building a decentralized compliance layer, to read more about that, check this article.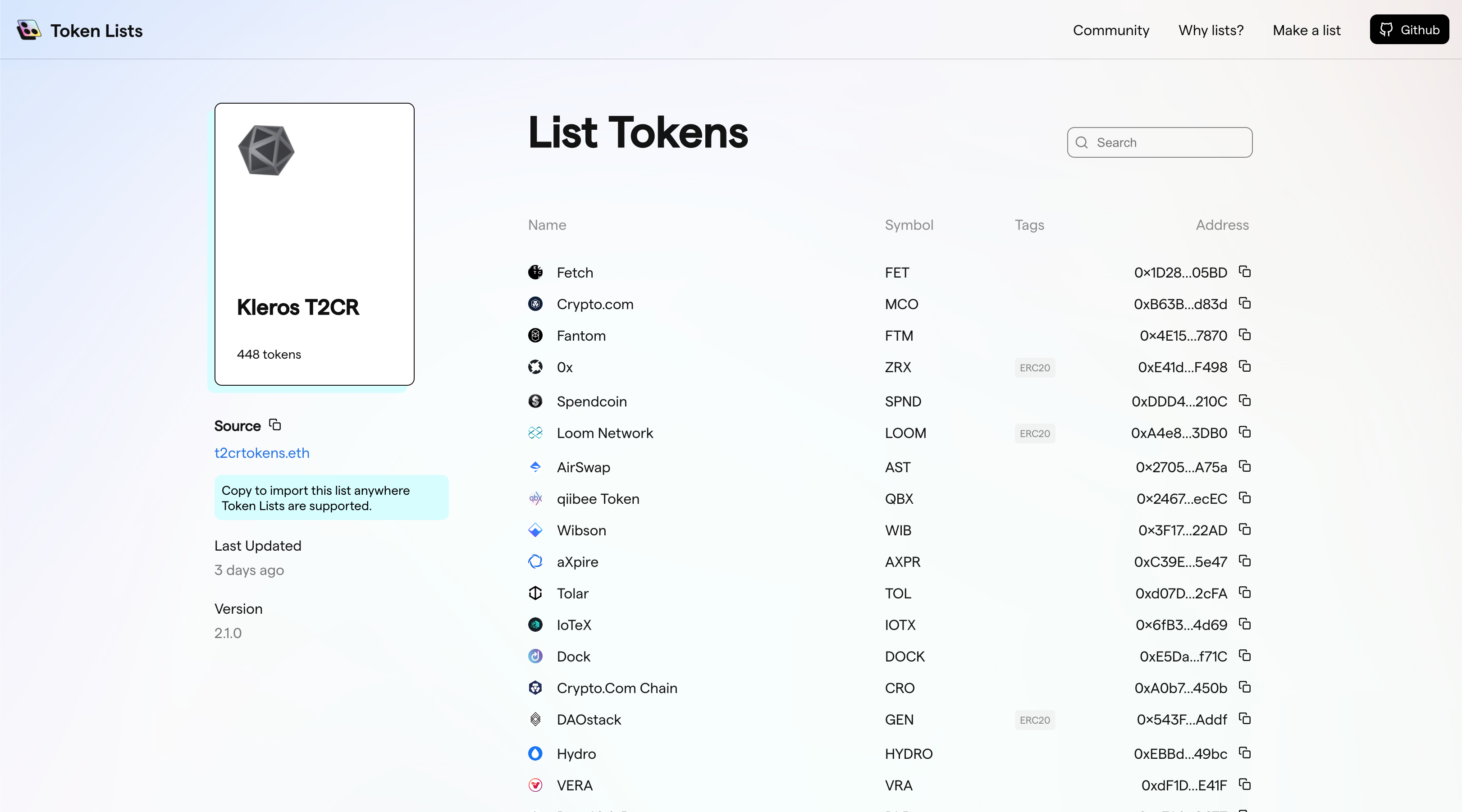 When our Tokens Dapp is updated, the list on Uniswap will automatically notify of new listings.
Check it out here.
Where Can I Find Out More?
Join the community chat on Telegram.
Visit our website.
Follow us on Twitter.
Join our Slack for developer conversations.
Contribute on Github.
Download our Book