Today is a proud day for Kleros, as we welcome the third generation of participants to the Fellowship of Justice program.
This program, which runs twice a year, gives candidates from all over the world the opportunity to conduct research and work towards the advancement of the emerging discipline of decentralized justice (go here to read the reports written by our Fellows from the previous batches).
During the initial selection period, we received an incredibly high number of applications and it took a while to process them, conduct interviews, address different topics and approaches to future research - and we're finally here.
From high level attorneys, working for some of the best legal firms in the world, arbitrators of all kinds to law students and young entrepreneurs, we have selected the Fellows who will participate in the third batch of our program.
So, without further ado, let us welcome our Fellows!
---
Mübariz Aliyev, Tech Lawyer
Mübariz Aliyev is a tech lawyer from Azerbaijan with a particular interest in blockchain, AI, data protection and IP. He holds an LL.M. degree from the University of Lausanne (Switzerland) and is completing his Master of Arts degree in IT Law in Estonia.
During his participation in the Fellowship, he will focus on the applicability of Kleros in the fintech industry. He aims to carry out research around the most common dispute patterns in fintech and to investigate how Kleros would fit into resolving them.
---
Paolo Archila, Attorney and Notary Public
Paolo Archila is an attorney and notary public, a graduate from Universidad de San Carlos School of Law (Guatemala), who also studied arbitration and digital communication. Since 2013, he's been working in commercial arbitration, trademarks, copyright and patent law cases.
During his time in the Fellowship, Paolo will research the application of Kleros into intellectual property matters, particularly simple disputes related to trademarks or copyright.
---
Sandeep Bhalothia, Technology Arbitrator
Sandeep Bhalothia is a graduate from Jindal Global Law School (India). He is a Member (MCIArb) of the Chartered Institute of Arbitrators (CIArb, U.K.) and a SCMA Accredited Mediation Advocate. He specializes in technology contracts of a wide variety, dispute resolution, advisory and employment law. He is currently heading the legal department of a technology startup in Dubai, UAE.
During the Fellowship, Sandeep will work on applications of Kleros for dispute resolution in digital nomads employment contracts. He plans to address the friction points in existing employment laws and the relevance of regulation related to health insurance, retirement, cross-border recruitment and enforcement.
---
Robert Dean, Construction Arbitrator
Robert Dean holds an LLM in Construction Law, Arbitration and Adjudication and a BSc in Commercial Management and Quantity Surveying. Robert is a Chartered Quantity Surveyor and holds fellowship status with the Chartered Institute of Building and Quantity Surveyors International. He is also a member of the Chartered Institute of Arbitrators. He has worked on a series of high-profile arbitrations and adjudications, and is currently a dispute consultant based in the Middle East.  
During the Fellowship, Robert will research applications of Kleros for construction disputes.
---
Marta García Bel, International Arbitration Lawyer
Marta García Bel is an associate at Freshfields Bruckhaus Deringer LLP based in New York. She specializes in commercial and investment arbitration in Latin America, advising clients in investor-state arbitrations conducted under the ICSID, ICSID Additional Facility, UNCITRAL and ICC rules.
During her time in the fellowship, Marta will explore how Kleros can be applied to resolve complex international arbitration disputes.
---
Scott Gray
Scott Gray studied Economics at Fordham University. He worked in finance and politics before getting more involved in the blockchain space in early 2016. Based in New York City, today he is focused on investing in blockchain protocols that increase efficiency and scalability for enterprises.
During his time in the Fellowship, Scott will research the fundamental value and execution strategy of a loan market for Kleros' PNK token.
---
Lorens Huculak, Digital Entrepreneur
Lorens Huculak is a digital product expert based in Belgium. He is currently completing his Master's in Innovation and Entrepreneurship at HEC Paris. Lorens is a strong advocate for online courts, which he believes will play a key role in the affordable, rapid, and transparent resolution of low-value and high-volume disputes.
During his participation in the Fellowship, Lorens will research potential Kleros applications for enterprise customers.
---
José María de la Jara, Arbitration Attorney
José María de la Jara is an arbitration attorney with the heart of a behavioral designer. He holds a JD from Pontificia Universidad Católica del Perú and is currently finishing an LLM at Columbia Law School. José María acted as a Training Coordinator at the American Bar Association Rule of Law Initiative, and worked for 8 years as an Arbitration Associate at Bullard Falla Ezcurra +.
During his time in the Fellowship, Josema will research how Kleros' decentralized justice model disrupts traditional arbitration constructs of trust, efficiency and due process.
---
David Lewis, International Commercial Mediator and Mediation Scholar
Dr. David Lewis mediates civil/commercial, construction, corporate, and employment disputes. Dr. Lewis' firm EGADR specialises in corporate and organisational conflict and assists small and medium sized enterprises (SMEs) with the design and implementation of effective dispute resolution infrastructure at all points along the supply chain.
As a Kleros Fellow, Dr. Lewis will be researching how Kleros can be effectively utilised in providing an additional mediator toolkit to provide valuable jury insights towards the goal of achieving more expeditious resolutions evaluative style mediations. As part of this study, Dr. Lewis will examine a well-known evaluative mediation framework to see where Kleros can be seamlessly integrated into this existing process.
---
Jake Lowther, International Dispute Resolution Expert
Jake Lowther is an Australian-qualified lawyer with a particular interest in arbitration. Beginning his career at Ashurst, Jake has experience in employment disputes, M&A transactions and construction disputes. He is currently working in Stockholm at the Nordic-Baltic law firm Magnusson.
During his time in the Fellowship, Jake will be investigating the enforceability of Kleros awards under the framework of the New York Convention, with a particular focus on emerging markets in regions receiving large amounts of foreign direct investment.
---
Shraddha Kulshreshtha, Commercial and Business Lawyer
Shraddha Kulshreshtha graduated with Honors from the National Law University, New Delhi and subsequently worked as a legal associate at Cyril Amarchand Mangaldas, a premier law firm in India. She is a commercial and business lawyer pursuing her LLM at Columbia University where she is assisting Prof. George Bermann and Prof. Kabir Duggal on an academic text on Investment Arbitration. Her legal focus includes international commercial arbitration, investment arbitration, commercial disputes and pharmaceutical and healthcare laws.
During her time in the Fellowship, Shraddha will compare and contrast Kleros with established arbitral institutions, in order to analyze the role it can play in facilitating the resolution of small scale disputes.
---
Emmanuel Mouclier, Legaltech Entrepreneur
Emmanuel Mouclier has an academic background in marketing and started his career at IBM. Throughout his career, he has worked in developing markets for innovative technologies. Currently, he is an entrepreneur in the legaltech field with a strong appetite for design thinking and legal design methodologies.
His objective during the Fellowship is to explore the application of Kleros in emerging business models of the sharing or collaborative economy.
---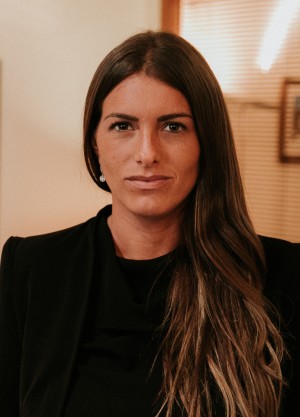 Agustina Perez Comenale, Attorney and Notary
Agustina is an attorney and notary graduated from the University of Montevideo. She obtained a postgraduate degree in Notarial Updating Law and now she is in the last stage of her LLM with a final research paper on smart legal contracts, both degrees from the University of Montevideo.
As a student she participated in the International Commercial Arbitration Willem C. Vis Moot Court Competition in Vienna. She co-directs the notarial and real estate services of the Firm Olivera Abogados in Uruguay (Terralex member), and she is a member of the Committee on Commercial Law and the Committee on Computer and Technological Law of the Uruguayan Notary Public Association.
During her time in the Fellowship, Agustina will research the legal effects, clauses and conditions to be taken into consideration at the drafting of a smart contract that can be used for decentralized systems such as Kleros.
---
Diana I. Santana G., Attorney
Diana I. Santana G. is a Mexican attorney graduated from Universidad Panamericana. She also holds an LLM in Comparative and International Dispute Resolution at Queen Mary's University of London. She has experience in different arbitration institutions such as the Korean Commercial Arbitration Board (KCAB International), the Beijing Arbitration Commission (BAC/BIAC), and the Hong Kong International Arbitration Centre (HKIAC).
During her time in the Fellowship, Diana will research the localisation of applicable law for Kleros disputes resolved through online arbitration, in cases where parties have failed to agree on the arbitral seat.
---
Alex Stanescu, International Arbitrator
Alex Stanescu is a lawyer from Romania who has worked on a wide span of legal areas from banking to international business transactions and international arbitration. He holds an LLM in International Arbitration from the University of Bucharest (Romania) and holds an MBA from Deusto University (Spain). He was a Fulbright scholar and a Wien Corporate Responsibility Fellow at Columbia Law School.
Alex's professional experience includes positions at the World Bank, the European Court of Justice and the European Investment Bank. He is an attorney qualified at the NY Bar in the United States. Currently, he is a partner at SLV Legal in Bucharest focusing on international arbitration and US/EU commercial & corporate aspects of tech, and especially deep tech - such as blockchain & crypto.
During his Fellowship, Alexandru will be focusing on a Kleros solution for predictive data analytics for international arbitration cases & strategies.
---
Anjali Tripathi, Law Student
Anjali Tripathi is a law student at Amity Law School in the Guru Gobind Singh Indraprastha University. She is also a legal entrepreneur at the firm Vidhivyedetta. She is the founder and editor of the Lex Jura Law Journal, a blogger with ED Times and has pursued various courses in International Environment Law. Anjali has been awarded with the Birla Young Indian Award 2020.
During her time at fellowship, Anjali will research the use of Kleros for enhancing access to justice in India.
---
Esthefania Vargas, Attorney
Esthefania Vargas is a Colombian Attorney graduated from Externado University. She is currently an LLM student in International Dispute Resolution at Humboldt University (Berlin). She participated in the Foreign Direct Investment International Arbitration Moot organized by King's College in London and has worked at private and public companies as well as law firms focusing on investment and commercial arbitration, ADR mechanisms and legal technology.
During her time in the Fellowship, Esthefania will conduct research on the potential use of Kleros for access to justice in Colombia.
---
Mauricio Virues Carrera, Alternative Dispute Resolution Professional
Mauricio Virues is an attorney who graduated with honors from Universidad Panamericana. He holds a Master in Constitutional Justice from Universidad de Guadalajara and is member of the 2019-2020 class at the LLM in Litigation and Dispute Resolution at the University College London (UCL). He is the Founder and Director of a leading Mexican law firm with a specialized practice in Civil Justice and Alternative Dispute Resolution.  
During his time in the Fellowship, Mauricio will research the legal validity and enforceability of Kleros in the context of Mexican civil law, in particular for disputes revolving around real estate and private investment operations.
---
Our new generation of Fellows resonates with elan and focus that is needed for developing a novel approach to an old industry. We are truly honored to be able to welcome such an esteemed group to our ranks and look forward to their hard work in bringing the future of justice a bit closer to reality!

Where Can I Find Out More?
Join the community chat on Telegram.
Visit our website.
Follow us on Twitter.
Join our Slack for developer conversations.
Contribute on Github.
Download our Book.