Kleros Update - Integrations and what's coming with V2
Guangmian Kung, Kleros Integration Manager brings us the latest news from the partnership front, giving us unprecedented insight into what's happening in the Kleros World today.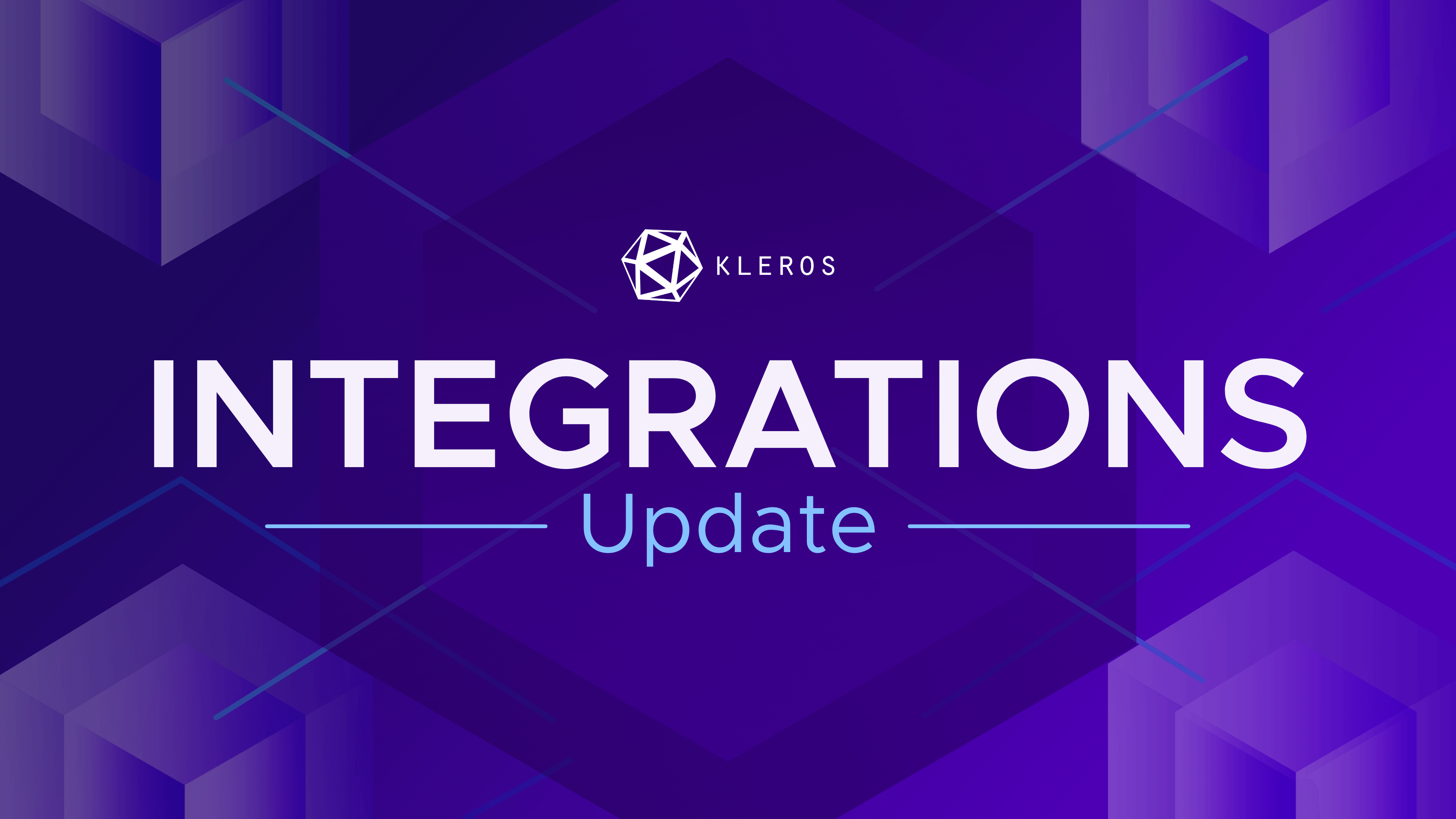 Welcome to the latest integration update and latest news on what's been happening with V2! ⚖️
2023 has been a great year for Kleros so far, where we've not only kept pace with the growth in partnerships we had in 2022, but also doubled down on key initiatives.
Let's dive into the updates, as well as what is coming up around the corner for our integration partners!
Consolidation and Expansion
Our goals this year have been twofold. The first is to build on our momentum in core markets such as identity verification, decentralized data, marketplaces, DAOs, and prediction markets to further expand our ecosystem. Secondly, we aimed to solidify our position as the go-to solution in sectors where we excel, such as decentralized data curation.
After welcoming nearly a hundred partners in 2022, we've maintained our stride this year by forging ties with around 50 new partners. Notable among these are Mask Network, Joba Network, Play Prode, Giza, PDC Finance, Catalyst, Very.insure, Payant and of course, Ledger and Metamask Snaps.
Revamped Registries and Incentives
This year, we've revamped the structure and design of our three pivotal registries: the Kleros CDN, address tags, and tokens registries. Beyond refining fields and policies for more straightforward and secure submissions, we've transitioned them to the Gnosis chain, enabling cost-effective submissions and multi-chain address support. To ensure a consistent influx of fresh data into these crucial registries, we've reintroduced our incentive programs to ensure continued community engagement and rewards.
Our enhanced registries haven't gone unnoticed. Industry leaders such as Ledger, Etherscan, and now Metamask, through its Metamask Snaps integration, are now all using contract metadata from Kleros Curate. This integration extends Kleros' contract metadata's reach to a staggering 20 million Web3 users worldwide. 🌍
Given the extensive data and its embrace by top-tier blockchain utilities, we're ambitiously eyeing further collaborations with more DEXes, wallets, and explorers.
DAOs and Kleros: A Match Made in Decentralization
DAOs are still the talk of the town, and we've put out two very practical products to help DAOs run their operations and communities.
For the Light-weight DAOs centered around their community chats can now leverage Susie, our decentralized chat moderation bot to moderate their groups in a fully decentralized manner. Curious? Check it out here.
For the Heavy-duty DAOs that have rigorous stringent security and governance requirements can also benefit from the revamped Kleros Snapshot plugin - the go-to optimistic governance tool for DAOs - to trustlessly and securely execute off-chain votes on-chain.
What's Cooking for 2024?
Our dev team has been hard at work to complete the development work for Kleros V2. Much has already been written about V2 and the testnet pilot is currently in full-swing. Below I'll focus on few key features that have been most requested by our partners and prospects.
1. Cross-chain Support
Currently, Kleros Court operates on Ethereum and Gnosis chain, with limited support on Polygon. In V2, partners will no longer have to devise their own bridging or cross-chain dispute resolution solutions. In v2, we'll be able to offer native support for (Arbitrable) Dapps across all major EVM ecosystems, including Polygon, Binance Smart Chain, Arbitrum, Optimism, and beyond.
2. Greatly simplified integration
In Kleros V1, integrating evidence and managing appeals were among the most intricate aspects of crafting an Arbitrable contract (refer to the ERC-792 arbitration standard documentation). This process demanded a deep understanding of Kleros-centric smart-contract logic, the development of specific frontend components for document uploads (to IPFS), and insights into how evidence influences jury voting patterns.
With V2, the integration design changes for the better. The Kleros Court, acting as the Arbitrator contract, will seamlessly manage evidence and appeals. This streamlined approach means integrations will be much more straightforward. All that's required is the initiation of a dispute with an associated policy or primary document, echoing the intuitive Request-Receive workflow seen in other oracle solutions like Chainlink.
3. Privileged Court Access
Many of you have expressed the desire for specialized (sub)courts that require unique permissions or qualifications for juror participation. While Kleros Court already addresses the problem of juror qualification through its self-selection and appeal processes, we recognize the added trust that these enhanced safeguards can bring to our partners.
Whether it's a basic humanity verification or specific real-world credentials, Kleros Court V2 is being designed to allow for these external qualifications in the juror selection process. By introducing privileged access, our goal is to deliver rulings that are not only efficient and credible but also precisely aligned with distinct requirements.
4. Rollup-enabled low-gas Court operations
Recognizing the challenges posed by gas fees for both jurors and partners, Kleros Court is transitioning to Arbitrum for more efficient operations. Here, we'll enjoy the low gas costs of a rollup while still benefiting from the security of the Ethereum Mainnet.
This move will make dispute resolutions cheaper and more efficient, especially for low-value disputes such as content moderation and e-commerce disputes. Additionally, with reduced gas costs, we can involve more jurors in the initial rounds, speeding up resolutions for high-security use cases.
---
In conclusion, 2023 has marked significant strides for Kleros, with a focus on consolidation, expansion, and innovation. Our commitment to addressing community feedback, enhancing our offerings, and anticipating the evolving needs of the Web3 space remains unwavering.
As we look ahead to 2024, we're excited about the forthcoming advancements in Kleros V2 and are grateful for the continued trust and support of our community. Stay tuned to new updates by joining our Telegram Community Chat and we look forward to shaping the future of decentralized justice with you. ⚖️🌍