Kleros Receives BPI France Innovation Grant
The Banque Publique d'Investissement (BPI) of France has awarded Coopérative Kleros a prize for the launch of Project Themis.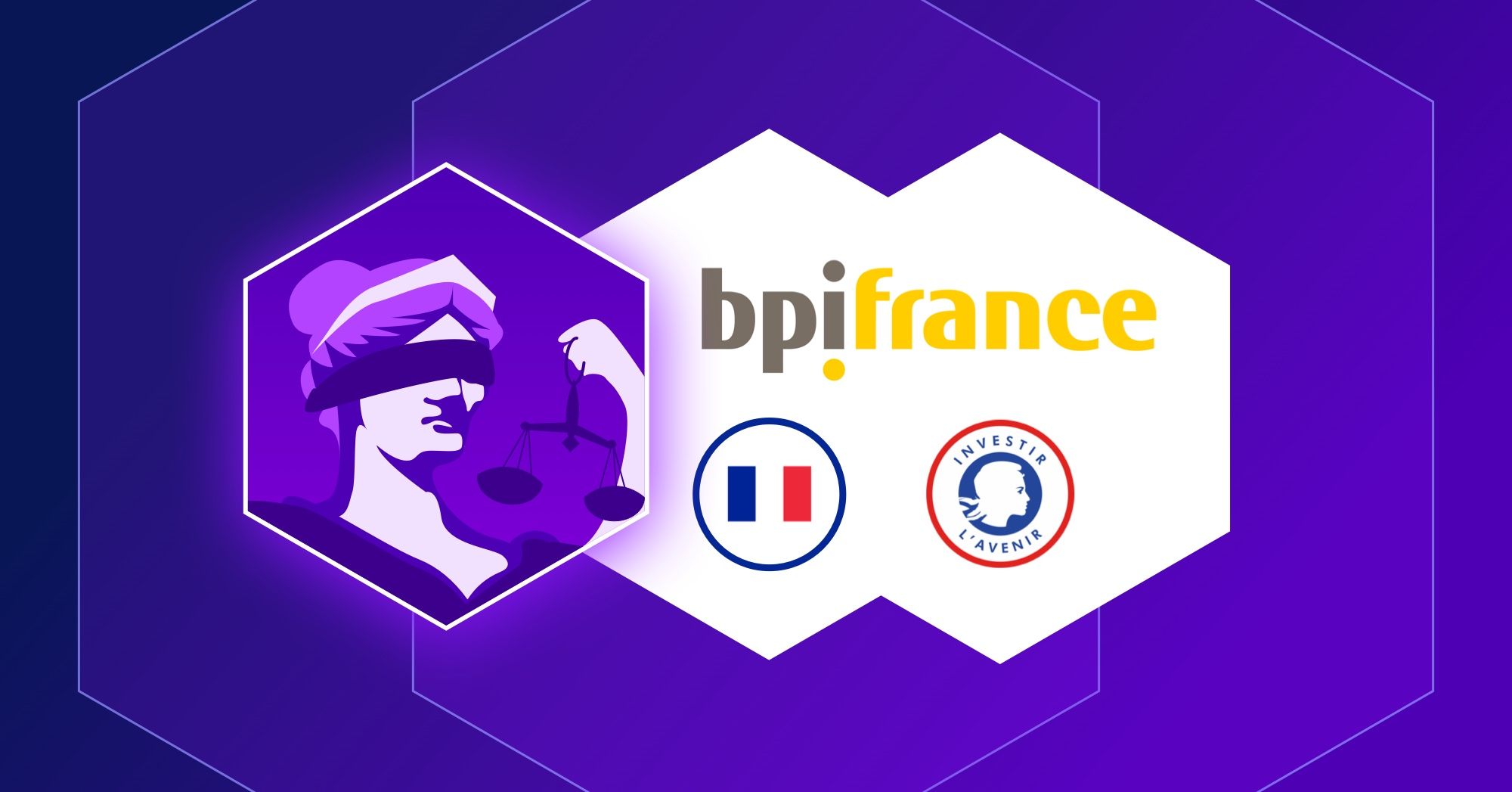 The Banque Publique d'Investissement (BPI) of France has awarded Coopérative Kleros a prize for the launch of Project Themis, which aims at fostering the adoption of the Kleros protocol in mainstream use cases.
Up until today, Kleros has been developed as a  project focused on the crypto ecosystem. But, we're all aware of its potential, which reaches well beyond the cryptosphere.
As we explained in this post, a key goal to reach mass adoption requires building Kleros Layer 2, a number of companies and products addressing mainstream use cases while relying on the Kleros protocol and juror network.
Coopérative Kleros has won a grant under the program "Programme d'Investissements d'Avenir" (Future Investment Program) by BPIFrance Financement.
The program provides funds for co-financing research and development activities of innovation projects of French companies which seek to achieve global leadership in fields such as digital deep tech, health, material science and space, based on their innovative nature, the economic impact and compliance with environmental standards.
Funds granted by the BPI will be used for the creation of Themis, a new unit within Coopérative Kleros which seeks to develop a number of capabilities which are required for the Layer 2 to prosper and thrive in corporate and institutional use cases.
In order to win the prize, the Cooperative went through a thorough vetting process which included different presentations to defend the commercial, research and development aspects of the project.
Project Themis
Project Themis includes a number of research and technology development activities with the goal of enabling the use of Kleros in corporate and institutional customers.
Cryptoeconomics Research
The development of better procedures for selecting and incentivizing jurors, based on social choice theory, will expand the number and types of use cases where Kleros protocol can provide a workable solution. To learn more about the type of research we're doing, read this.
Legal Research
This will provide insight on how to make the protocol compliant with existing regulations on arbitration and online dispute resolution, in order to expand the number of mainstream use cases where Kleros can work.
Cross-chain Compatibility Development
Kleros is built on Ethereum. But a number of corporate applications are built on other blockchains. As part of the Themis Project, we will develop bridges between Kleros and the most widely used blockchains for enterprise use.
Scalability Development
Enterprise applications will require the Kleros protocol to handle a massive volume of cases. This is why the Themis Project includes a number of technical development activities regarding sharding, generalized state channels and plasma chain.
SDK Development
The construction of companies and products on top of Kleros protocol requires providing a simple and friendly experience for Layer 2 developers. Themis Project includes the development of an SDK which will ease the development of products in the Kleros ecosystem.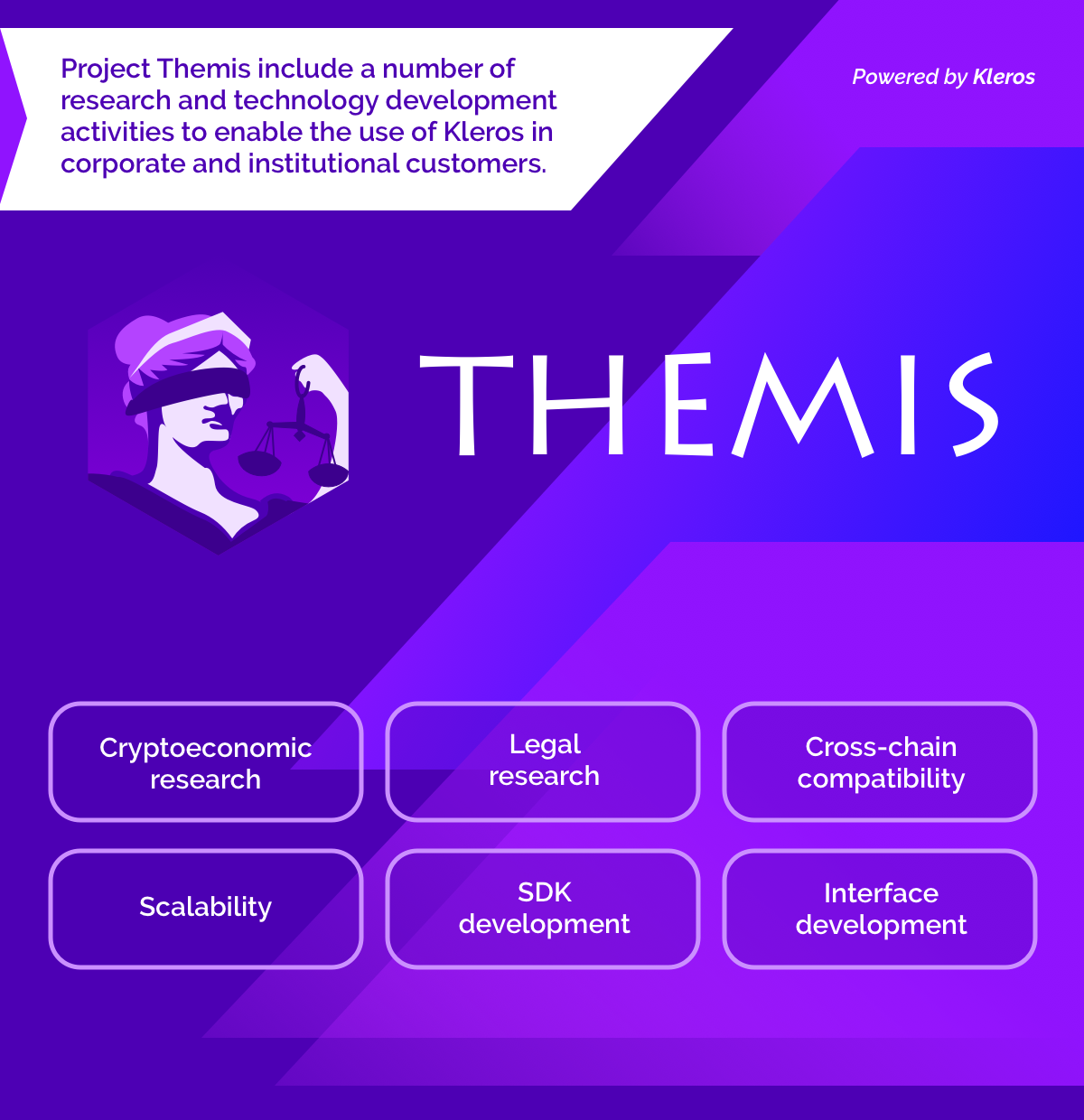 The Prize
The funding provided within the framework of the Innovation Contest for Coopérative Kleros comes under the form of two thirds of state aid and one third of a loan to be repaid.
This means the Cooperative will receive a total of €718.017, of which €478.678 is a non-refundable grant, and €239.339 is a refundable loan under the terms and conditions of the program.
This prize is more than just a material reward - it is also a confirmation of our effort invested in developing the first working decentralized court and bringing the future of justice a step closer to reality.
We are proud to have received such a reward and will fully utilize it to create Layer 2 and expand well beyond the boundaries of our current system and into global commerce.

Where Can I Find Out More?
Join the community chat on Telegram.
Visit our website.
Follow us on Twitter.
Join our Slack for developer conversations.
Contribute on Github.
Download our Book