Democracy Awakens - Introducing the Proof of Humanity DAO
We're proud to announce Proof of Humanity DAO, the first ever truly democratic 1-person-1-vote governance system with open participation.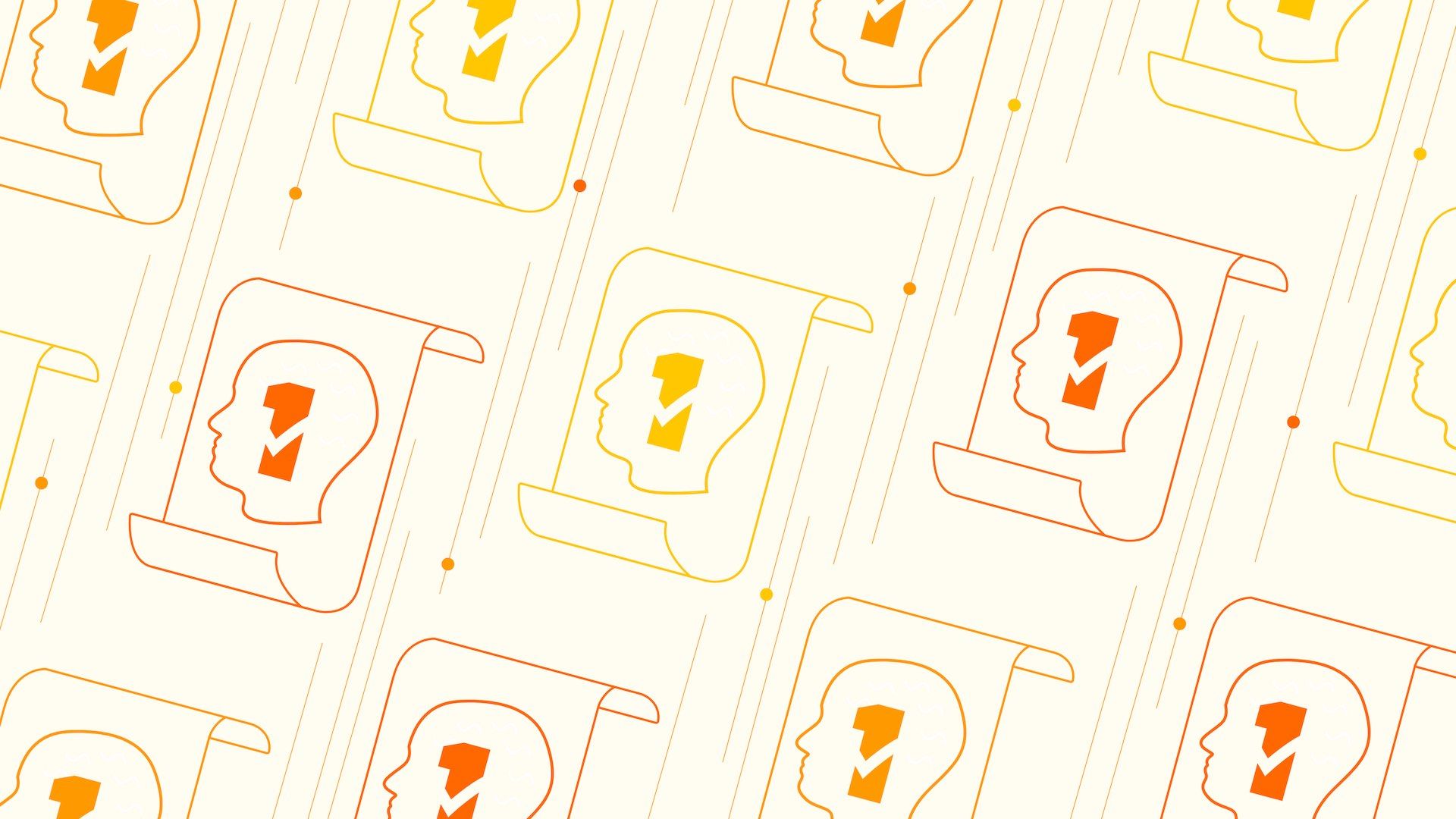 We're proud to announce Proof of Humanity DAO, the first ever truly democratic 1-person-1-vote governance system with open participation. It is built with Proof of Humanity, a sybil-resistant identity protocol.
Such a fair, transparent and decentralized voting system may well be an unprecedented experiment, a new chapter for the future of democracy.
The Proof of Humanity DAO will be named by PoH members in a future governance update.
There are many potential use cases that can be derived from a platform giving each user the same voice and voting power. For a deeper insight into how Proof of Humanity works, how to register and what it could do, see the selection of links we added to the end of this article.
Now let's have a look at some of the key factors and functions of the DAO.
One Person - One Vote
Forget one-cpu-one-vote or one-dollar-one-vote. Regardless of stature, wealth, social standing or other factors, at the Proof of Humanity DAO, every member will have the same voting power: it is a one-person-one-vote DAO.
A truly egalitarian voting mechanism backed by on-chain transparency ensures no member can vote more than once. Never before tried, this is democracy in its truest form.
As an experimental project, over time we of course expect the DAO to learn, tweak and develop its governance processes through community proposals.
Initially the DAO will be given control of:
The Proof of Humanity dapp. This will enable changing parameters such as submission deposits, amount of vouches required for registration, etc.
The UBI contract. This will allow the DAO change parameters such as the UBI issuance rate among others.
An allocation of 4,000,000 UBI.
The DAO will be able to control assets, make resolutions, hire contractors, etc. The possibilities are endless and will be determined by the participants.
As revolutionary as it is to be able to do permissionless one-person-one-vote governance on Ethereum, we know that a thriving community needs much more than a direct democracy to express and govern itself.
This is where our forum comes in, a space to co-create, learn and deliberate. If you have an idea that you would like to propose to the Proof of Humanity DAO, go to gov.proofofhumanity.id and explore the existing conversations over there.
If you see something similar, reply and contribute to it. That's exactly how it's supposed to be: proposals need to evolve through community feedback. But if you find that your idea hasn't been brought up in any variation, make a new post to announce it to the community.
Be open to criticism and engage actively in the debate.
If there's reasonable support coming from the community: congratulations! You may go ahead and submit the proposal to a vote on Snapshot.
Snapshot
The DAO uses Snapshot, a decentralized voting mechanism which allows for gasless signalling. This means that there isn't any on-chain settlement.
Instead, proposals and votes are signed messages using the eth_sign format and stored on IPFS. We may call it 'soft-voting' or 'vote signaling'.
Nevertheless, signed messages are made available for all members to verify them through the Snapshot interface, in an easy and permissionless process, so that the legitimacy of the results are hard to contest.
Anyone registered on Proof Of Humanity can vote on proposals. Here's how it works:
On the upper right corner, click on the "Connect Wallet" button.

Make sure to connect with the same Ethereum address that you have used to register in the Proof of Humanity registry. Otherwise, you will still be able to vote, but your vote will not be counted in the final tally.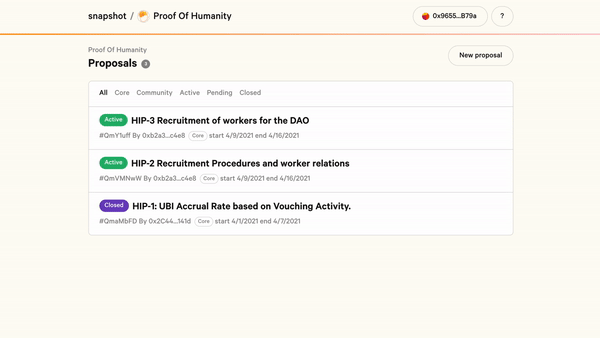 Select one of the open proposals, and scroll down to see your ballot.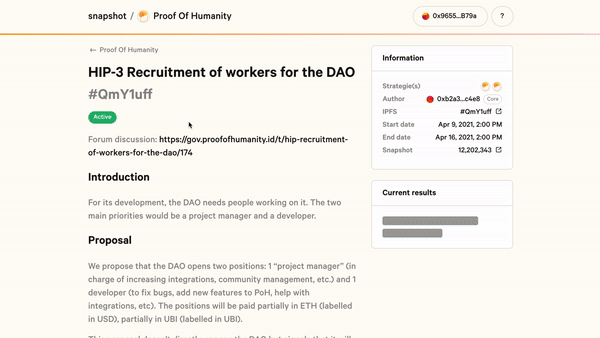 Make sure to confirm your vote, and check it in the Snapshot interface by scrolling to the end of the proposal page.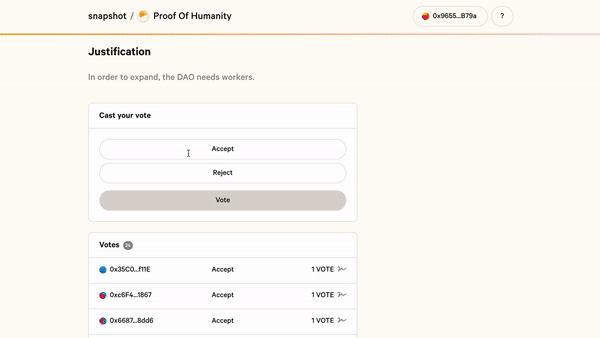 That's it!
HIP - Humanity Improvement Proposals
Modifications in the workings of Proof of Humanity and UBI need to be done through the submission and voting of Humanity Improvement Proposals (HIP).
All accepted proposals will be automatically translated into code enforcement by the Kleros governor.

The operation flow is as follows:
Create an HIP post in the Proof of Humanity Forum.
Receive community feedback and update the HIP.
Indicate on the forum that the proposal is final and ready to be put to vote.
If the proposal is accepted, anyone can submit a list of transactions implementing the proposal(s) changes on Kleros Governor.
If no one successfully challenges this list, Kleros Governor enacts the changes by sending the transactions.
Note: A gas fee and ETH deposit are required for the Kleros Governor.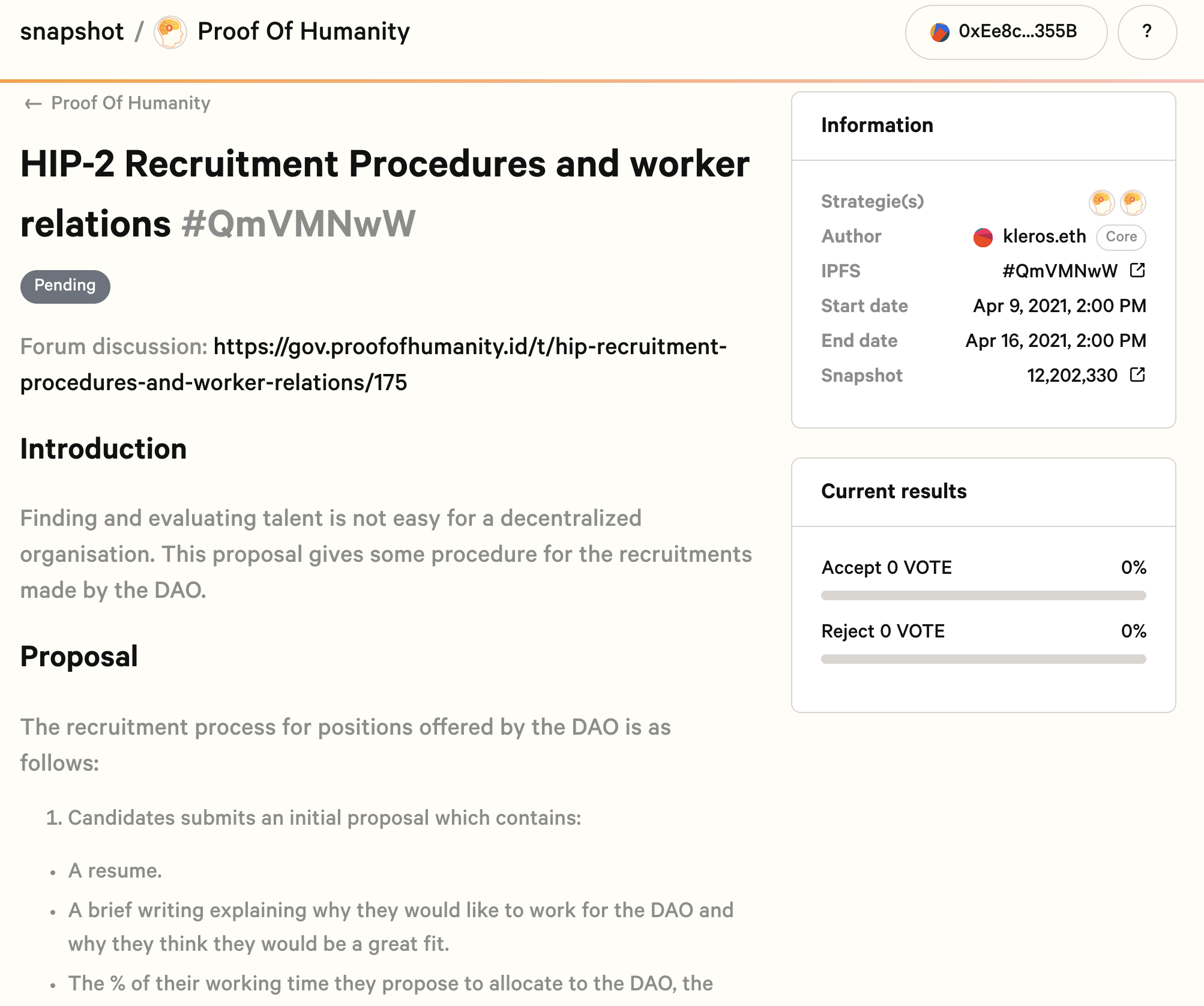 Democracy Awakens
The meaning of the word 'democracy' has been diluted over the years due to corruption, vote rigging, external interference and many other factors. We want to reclaim it!
Now, with the combination of blockchain technology and a sybil-resistant registry of humans, we open the door to a new era of transparency and truly democratic voting.  

You are invited to join the Proof of Humanity Dapp, and participate in this new, first-of-its-kind form of governance on Ethereum, where you can be sure your voice is heard and valued equally to all others!
Further Info
Co-authored by Paula Berman of Democracy.Earth