Ethfinex Decentralizes Exchange Listings Using Kleros' Token Curated Registry
Kleros and Ethfinex partner to decentralize token listings with a production ready Token Curated List.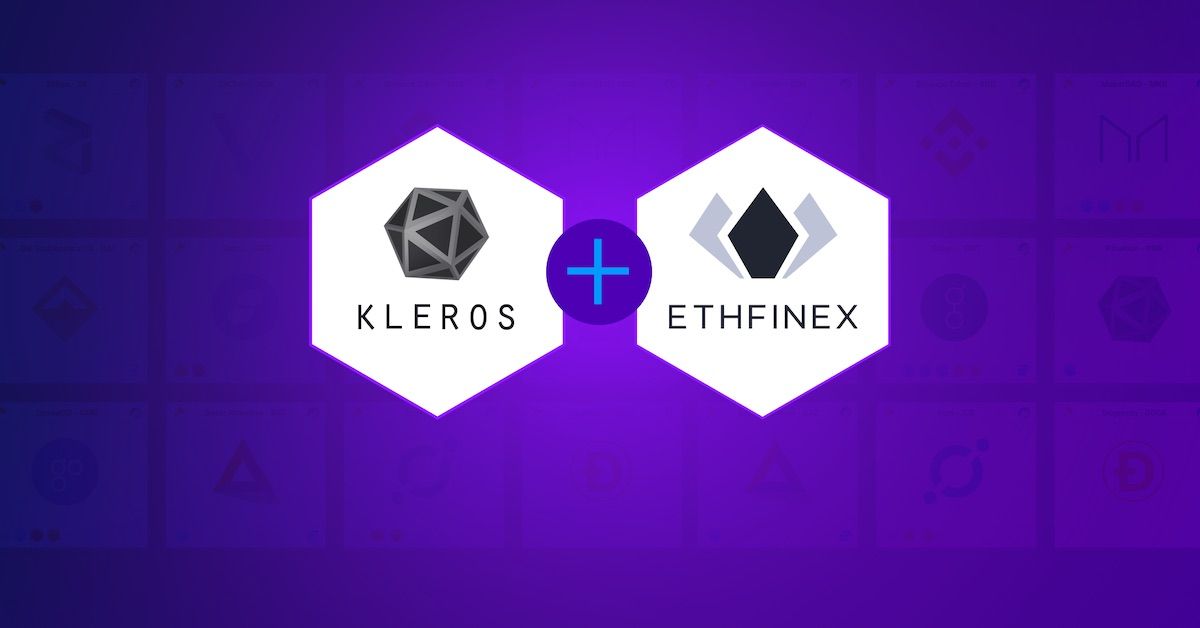 At Kleros we've been working feverishly on our Token Curated Registry after successfully piloting our Doges on Trial Dapp. Now, we have teamed up with Ethfinex exchange to fully decentralize their token listing.  Find out how below...
Curated lists are literally everywhere, whether it's eBay's gardening tools category, YouTube search results or the mildly nausea inducing Facebook homepage feed. These are all curated lists with one common element - they're all centralized.
The key goal of Kleros and Ethfinex is to buck this trend and offer the first ever decentralized token listing application.
How Does it Work?
The goal of this partnership is for Kleros to help Ethfinex handle its token listing process in a decentralized way. At the moment, this process is in the hands of the Ethfinex team. After this partnership, it will be in the hands of the community.
For a Deep Dive Explainer on this, click here.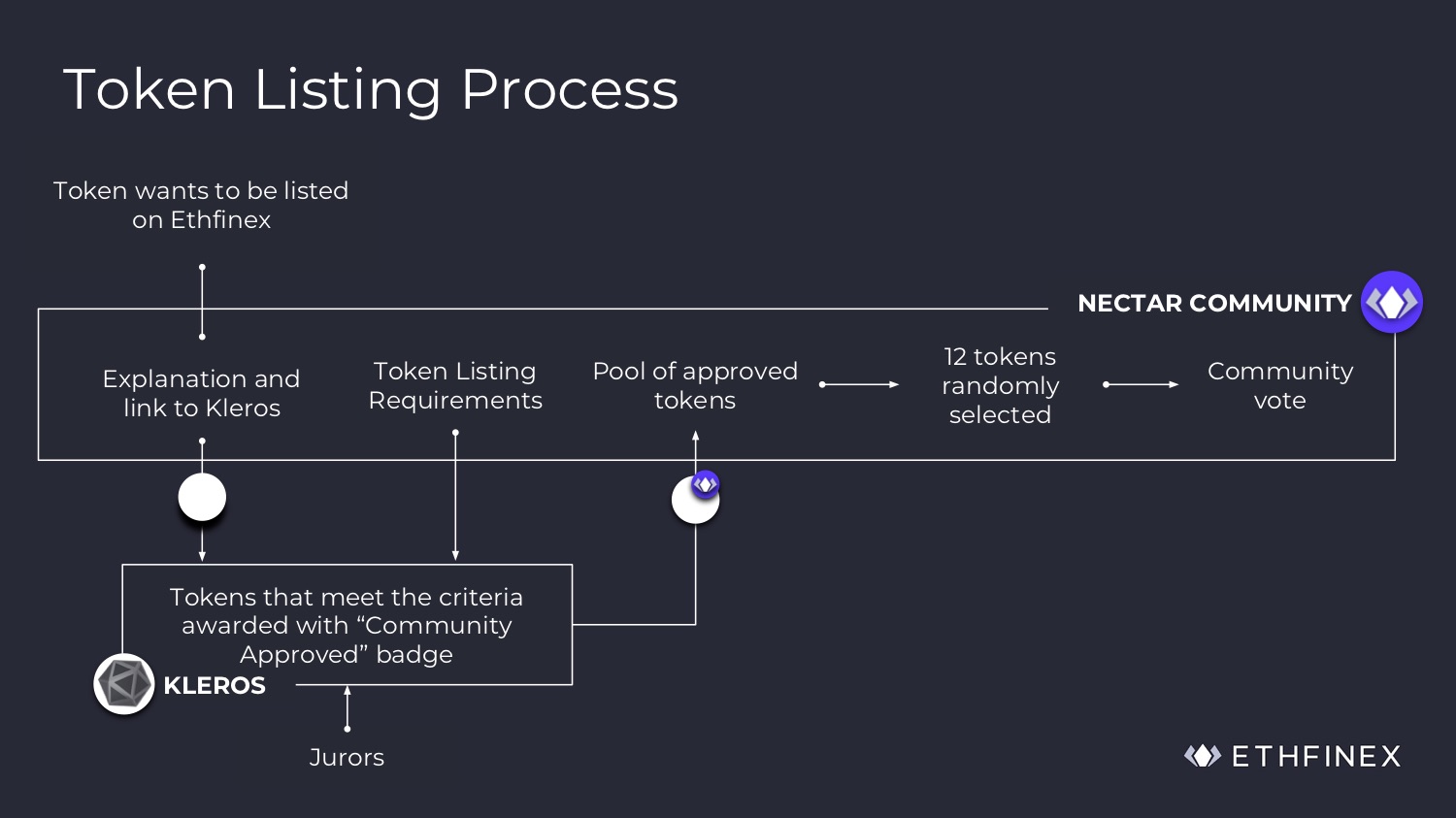 There are three possible roles a user can play in this process:

1. Submitting a token
Here, a user submits a token which adheres to the guidelines set out by the Ethfinex platform. The user pays a deposit fee in ETH to submit a token. The deposit is refunded if it is not challenged and ruled against by Kleros jurors.
2. Challenging a submitted token
Users can also 'police' the list by challenging any submissions that are incorrect, missing vital information or malicious in nature. Much like the submission, a challenge also consists of a deposit fee in ETH, which is refunded if the challenge turns out to be correct.
3. Ruling as a juror on challenged tokens
Tokens that have been challenged will go to arbitration. These challenges could come from incorrect information, non-compliant token listings or malicious token listing attempts.
Ok I think I get it, give me a concrete example?
Kleros jurors will be called into action if a submission is challenged. That process  could look something like the following:
Juan submits a token to the list and pays the ETH deposit fee to do so.
Maria challenges the submission, stating the contract address is incorrect and thus, should not be accepted to the list.
Both parties have the option to provide evidence arguing their respective positions and the challenged case is then sent to Kleros jurors.
By this point, Kleros jurors are selected to rule on the case after staking their PNK in our Athena Court Dapp.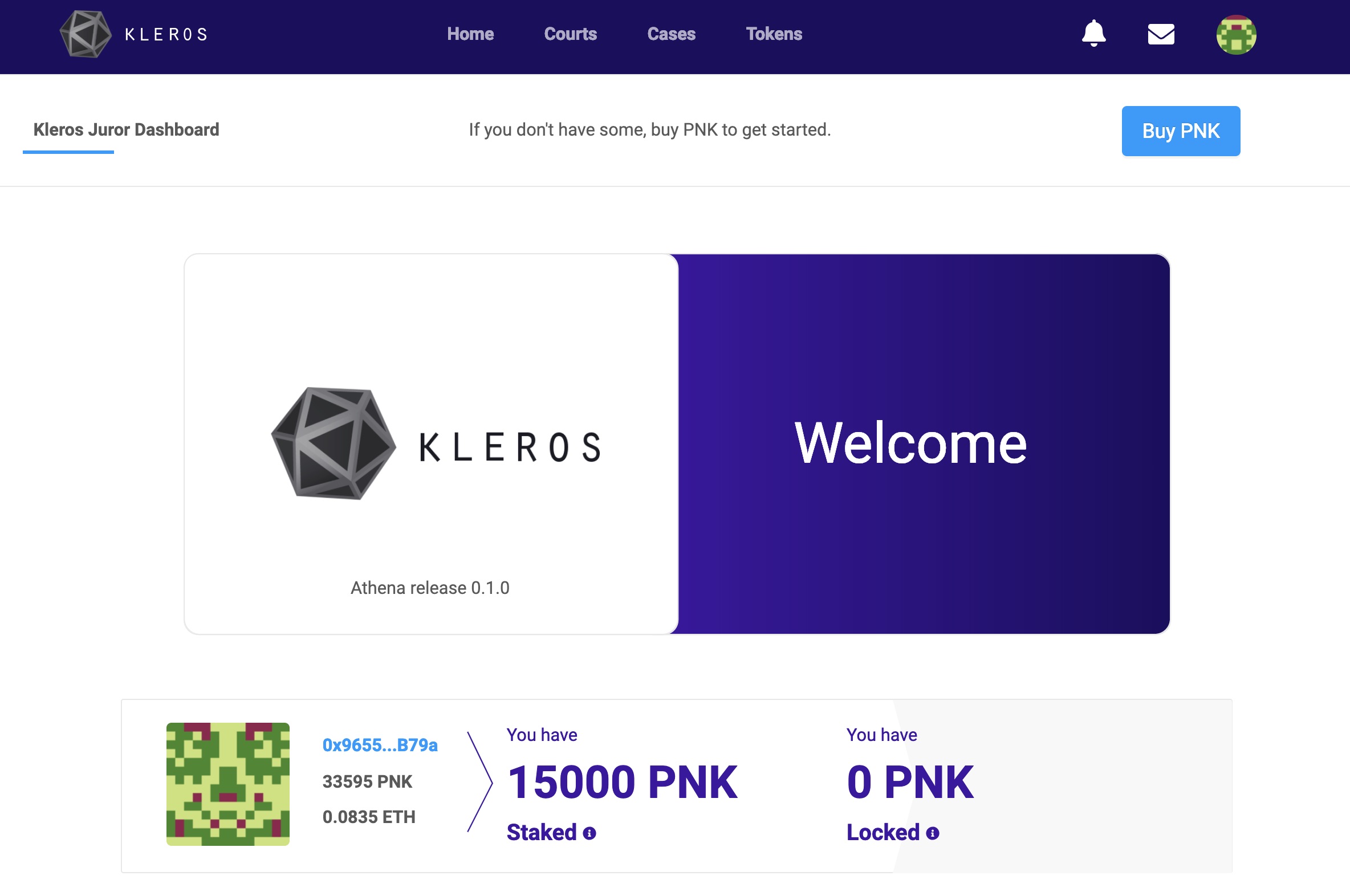 * For more info on this process, check section 4.2 in our Whitepaper
The jurors evaluate all the available evidence and cast their vote on which party they believe is in the right.
If Juan made a mistake in his listing, (maybe the contract address is missing one digit, for example) and jurors ruled against him, he would lose the deposit fee in ETH he initially used to submit the token.
This ETH would then be distributed to both the challenger - Maria and the Kleros jurors who ruled in the coherent majority.
Jurors who do not rule with the majority do not receive any arbitration fees in ETH and lose some of their staked PNK. Conversely, jurors that rule coherently gain both arbitration fees in ETH and some of the PNK from incoherent jurors.
A full explainer guide will be up very shortly will all the in's and out's of the process. For now,  any questions just ask in our Telegram and we'll get right back to you.  
What does your decentralized curated list offer?
Until now, the Ethfinex listing process consisted of Ethfinex picking the best projects to put forward to a public vote, which was then carried out by users of the Ethfinex exchange.
Voters would assign voting tokens (EVT) to the project they most wanted listed on both the Ethfinex and Bitfinex exchanges. At the end of the voting process, the top three tokens were listed.
This process worked well for the most part but now, in the true spirit of cryptocurrency, it's moving to a fully decentralized curated list backed by Kleros dispute resolution.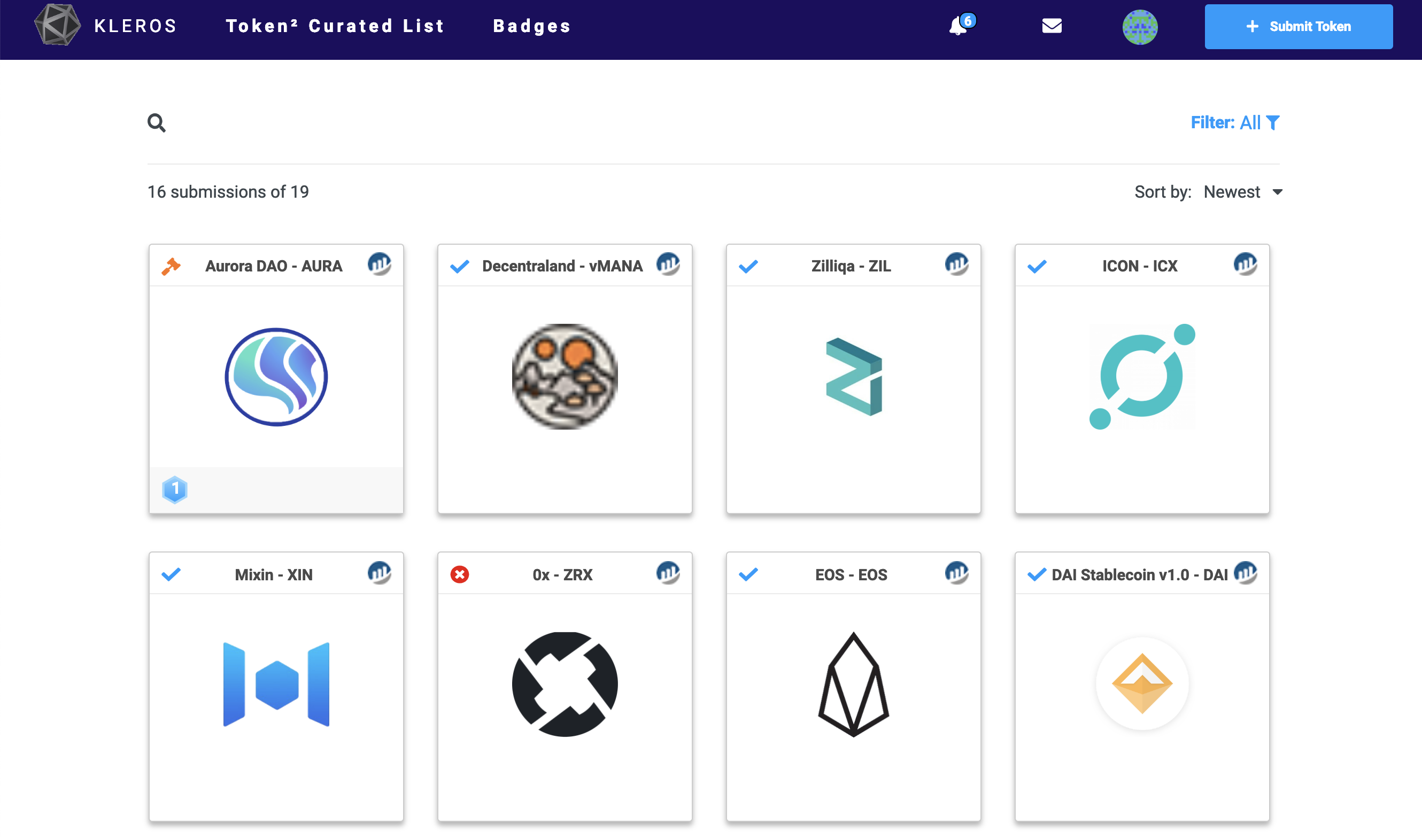 What does the Kleros Dapp offer?
Tried and tested using our first mainnet pilot - Doges on Trial, a fully decentralized list now arrives with production ready capability.
Kleros jurors have the ability to earn money through arbitrating and adjudicating cases they are selected for. They will receive arbitration fees and a redistribution of PNK (Kleros' native token) when making coherent decisions.
The community is now solely responsible for the curation of the tokens put forward to vote.
Through cryptoeconomics, Schelling point game theory and blockchain transparency, we finally have the tools available to offer a radical new solution for many centralized problems including list curation.
There is a stringent set of guidelines and criterion set for what makes a valid token submission (we're not looking to curate scam coins, of course) and by using these criterion both submitters, challengers and jurors have a clear guideline to follow before making any decisions.  
Through the Ethfinex token curated registry 'badge' process, the token proposer adds a 'Community Approved' badge (CA), signalling to the community that the badge meets the Listing Criteria. Listings that successfully attain this badge can then be put forward to the community NEC vote.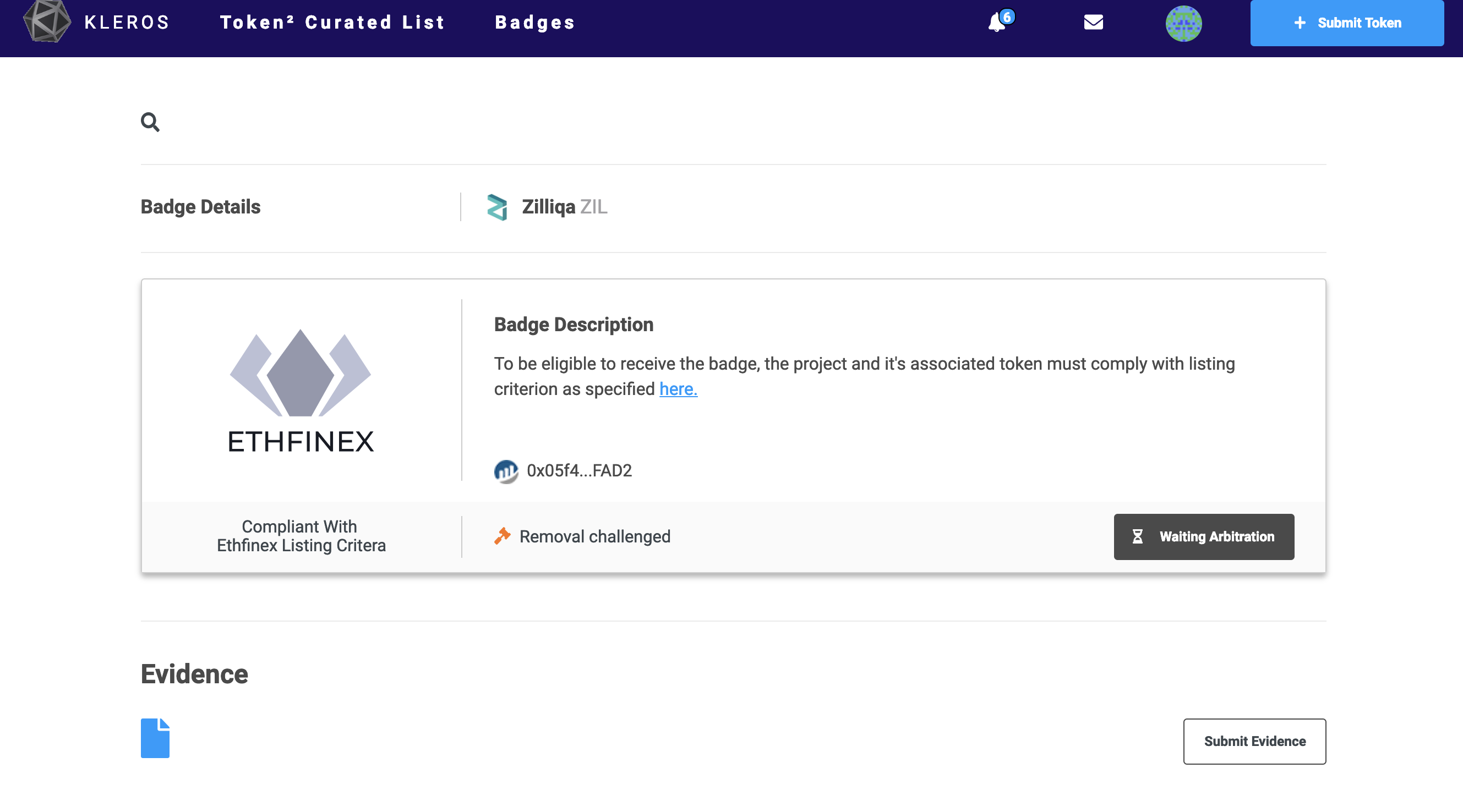 How long does this process take?
The token listing process will last one month in duration for each session however. The first two weeks will be dedicated to submissions, challenges and the curation of the list. One week will then be dedicated to 'Token Education' and the final week will see EVT token holders voting on the valid submissions selected for public vote.
Tokens can be submitted to the list at any time. Once a month Ethfinex will pull the compliant badge listed tokens to put forward to their NEC vote holders. If a valid submission misses the cutoff date for one month, it will be automatically pushed to the next.
By teaming up with Ethfinex exchange, we're aiming to completely revolutionize the token listing process and offer a new, transparent, open and community led token listing offering.
We're excited to see how this goes and hope this is the first of many exchanges taking the leap into true decentralization of token listings.
To Check out the Token Curated List Click Here
For a Full Deep Dive Explainer Click Here


Using Dapps can be tricky, we get that. For all support or queries please join our Telegram and we'll get right to you!
---
Before you go... interested in becoming a Kleros Juror?
You can always sign up to become a juror adding your email to a mailing list. Use of our juror platform is fully decentralized of course but this lets us get in touch to notify of any pilots or real Dapp's ready for you to arbitrate on.

Join Kleros!
Join the community chat on Telegram.
Visit our website.
Follow us on Twitter.
Join our Slack for developer conversations.
Contribute on Github.